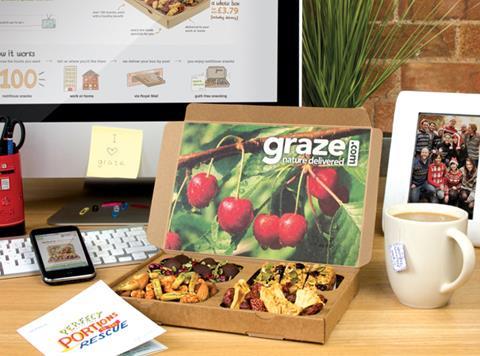 Online snack delivery service Graze notched up underlying sales growth of 31% in the year to 28 February 2014, it revealed today.
Graze, which delivers cardboard boxes of healthy snacks such as nuts and berries direct to consumers, reported sales of £52.7m, up from £40.2m the year before. EBITDA was £12.2m.
The retailer did not give further prior-year financials as it said changes to the group structure in 2012 meant it could not provide meaningful year-on-year comparisons.
Graze cited strong growth in the UK market in 2013, aided by the launch of a Graze 'goodybox' for children, and Graze breakfast boxes, as well as a responsive website to improve the user experience on mobiles.
The company launched a nationwide service in the US in November 2013 and had exceeded 100,000 customers by February 2014, it said. It plans to invest $75m (£46.1m) over the next two years in US infrastructure, technology and marketing.
"I am delighted with the progress made across the group's operations, which is reflected in another year of record financial results, with sales exceeding £50m for the first time," said CEO Anthony Fletcher. "The core UK business continues to go from strength-to-strength and has been further boosted by the launch of new product ranges.
"Our launch in the US went smoothly and early trading has surpassed our expectations as graze fast establishes itself as the leading online retailer of healthier snacks."
Looking ahead, Fletcher said the current financial year had "started well". "With our leading technology platform, deep customer insights and continuous product innovation we are well placed to make further profitable progress in the current financial year."
Graze, which launched in 2009, was co-founded by Graham Bosher, one of the founders of Lovefilm. The Carlyle Group took majority ownership in November 2012; other investors include Octopus Investments, DFJ Esprit and management. It has 500 employees, with operations in London, New York and New Jersey.