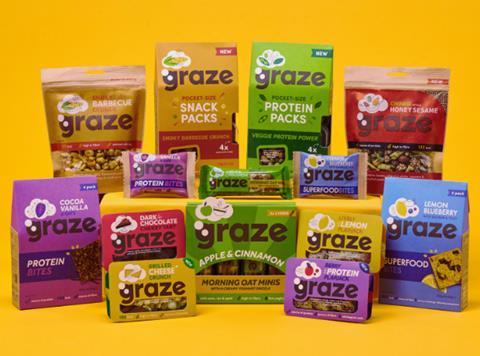 Operating losses at Graze have widened as sales slumped almost 20% following its acquisition by Unilever and closure of the US division.
Revenues at the business fell to £37.4m in the 10 months to 31 December 2019, compared with £54.7m in the previous year, an annualised decline of 17.9%, according to the newly filed accounts for Nature Delivered Ltd.
The results were affected by the closure of the US business last year following a strategic review. Operating losses for the period reached £8.8m, up from £2.4m in the 12 months to 28 February 2019.
However, Graze jumped from pre-tax losses of £1.2m to profits of £21.3m, thanks to the £29.2m proceeds from the £150m sale to Unilever completed in February 2019.
Unilever saw off competition from Kellogg and PepsiCo to acquire Graze from previous owner Carlyle. However, the £150m price tag was well below the US PE firm's £300m expectations.
Graze was founded in 2008 as a snack box delivery service for a range of nuts, seeds and bars, but has evolved into a more retail-focused business, with listings in the major mults.
Accounts for Nature Delivered said 2019 was a period of "significant transition" and the performance was in line with expectations.
The group continued to invest behind the European growth of the business, the accounts added in the director's report.
"The company's growth in the UK and Europe is expected to be driven through further online innovation, use of Unilever expertise and through expansion as a multi-channel retailer.
"The group undertook a strategic review during the year resulting in a significant change to its distribution plans in the US impacting both the retail and online businesses."
Graze CEO Anthony Fletcher, who joined the business from Innocent Drinks in 2009 as head of marketing before taking the reins in 2012, left the group earlier this year, with Unilever director Joanna Allen taking over.
Companies House filings also reveal that Andrew Gibbs, who has been CFO for more than eight years, left the business earlier this year. UK commercial finance manager Liam Varenkesh stepped into the CFO role in September.
Graze and Unilever did not respond to requests for comment.