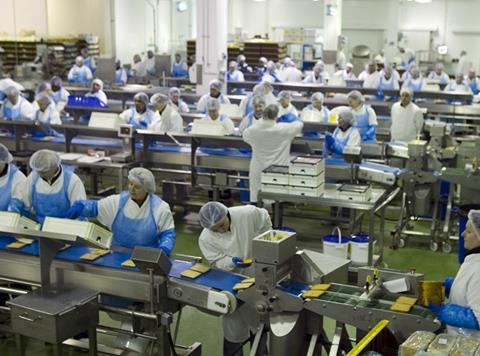 New product lines at Greencore's (GNC) £35m Northampton factory, which supplies Marks & Spencer, have contributed toward the growth of the sandwich maker's food-to-go business in the UK during its third quarter.
Revenues in the 13 weeks to 26 June climbed 6.2% – on a reported and a like-for-like basis – to £346.5m, as the convenience foods division also benefitted from strong growth in the US. The division recorded sales of £331.9m in the period, 6.9% higher than a year ago and up 6.3% on a like-for-like basis.
In the UK, the like-for-like performance increased 4% compared with the third quarter of 2014 as the food-to-go business continued to expand. However, Greencore said in the trading update that revenues elsewhere in the UK were "more subdued".
Like for likes in the US were 22.1% better off than last year, principally driven by the roll out of new lines with principal customers such as Starbucks and 7-Eleven.
The ingredients and property division, which now represents less than 5% of group activity, recorded turnover of £14.6m in the third quarter, a 4.4% rise on a constant currency basis and 8.2% lower in actual currency.
Group revenues for the first nine months of the financial year came in at close to £1bn at £986.3m, 4.2% ahead of the prior year on a reported basis and 4.7% on a like-for-like basis. Sales in the year to date for convenience foods were £946.6m, 5.4% up on a reported and a like-for-like basis.
Greencore warned, however, that the core UK grocery market remained challenging with high levels of volatility as the major supermarkets continued to battle it out on price.
"The combination of modest deflation in ingredients and packaging costs, together with price investment by grocery retailers, has resulted in value growth lagging behind volume in a number of our product markets," the group added.
"Greencore remains focused on delivering exceptional standards for its customers and on the execution of complex capacity increase projects in both the UK and US. We remain confident in our ability to deliver adjusted earnings per share growth for the financial year within the range of market expectations."
Shares in the business are currently down slightly on yesterday's closing price of 318.5p after climbing almost 1% to 321.7p on opening.