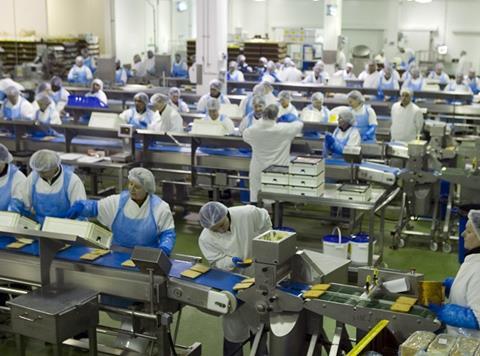 Greencore has announced the opening of a further £12m investment in its Northampton food to go base to open a new facility to cope with stronger than expected volumes.
Announcing its annual results for the year to 25 September, Greencore said sales had increased by 5.2% to £1.34bn driven by booming UK and US sandwich and food to go sales.
Sales for the division, which also incorporates sushi, bagels, prepared salads for retailers, were up 10.4% like for like during the period and "well ahead" of overall UK sandwich market growth of 4.1%.
The division recorded revenue growth of 8.9%, due to net business wins and the associated roll out of new product lines.
Top cope with rising demand Greencore had previously committed to a £30m investment in its Northampton sandwich manufacturing plant to fulfil increased volumes from a major contract win in 2014.
But as a result of unexpected demand at the new £30m facility, with projected future volumes higher than expected, the group this morning said it had commissioned an additional manufacturing unit at the cost of £12m.
Greencore finance director Alan Williams said the company was in the process of taking possession of the keys for the first extended facility and is on target to begin production in mid-2016. This unit will now exclusively be used to produce sandwich products, rather than the wider food to go ranges it was initially also planned to house.
Instead, the newly announced £12m facility will now produce these additional ranges and is scheduled to come online in the second quarter of 2017.
The move means the transfer of these other food to go products will be slower than was initially planned for in May 2014, but Greencore said "the growth trajectory in core sandwich volumes at Northampton, alongside good commercial momentum across other parts of our food to go division, will fully compensate for this delay in FY16".
Williams said this additional investment announced this morning will create extra jobs, but it was too early to speculate on the numbers involved.
Elsewhere, its prepared foods division, which manufactures own-label ready meals amongst other products, saw revenues rise 1.8% over the year. Overall performance was held back by a decline in quiche sales following a customer's decision to move production in house, Greencore said.
Like for like revenue in its grocery division (excluding the Ministry of Cake foodservice desserts business which was sold in May 2014) declined by 1% during the year, driven by lower year on year cake revenue following the exit of some less profitable seasonal lines.
Williams said the supermarket price war had continued to impact the division's performance – pointing to a 3.1% value sales decline in the own label cooking sauces market despite volume growth of 4.3%.
However, he suggested prices were generally beginning to stabilise, noting: "In terms of the live conversations we're having with customers, we are getting the feedback that most of the big pricing moves have already taken place."
Annual group operating profit was up 10.6% to £91.7m as a result of the growth in the top line.
The shares dipped 2.4% to 312.6p today as investors reacted to the news that the benefits from increased capacity in food to go would flow through more slowly than first anticipated.
However, Jefferies analyst Martin Deboo stuck to his 370p price target and said he would upgrade the broker's earnings forecasts on the upbeat food to go commentary.
He said: "FY15 is just ahead of our expectations and the tone is positive. A further contract win in UK food to go upgrades our numbers in FY17 & beyond… Our valuation view is unchanged and we see plenty of room for the shares to progress from here."