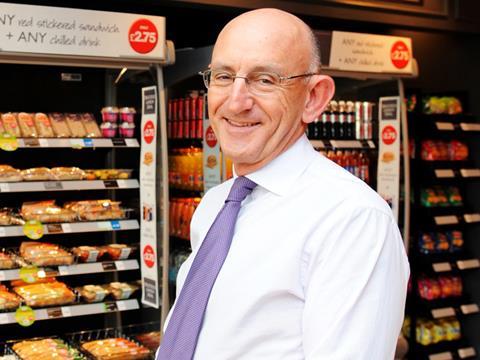 Greggs (GRG) CEO Roger Whiteside has promised he has no plans to shrink its staple sausage rolls in the battle to combat the growing threat of rising ingredient prices.
The boss of the food-to-go chain also vowed in a call with journalists today to fight "tooth and nail" to avoid putting up prices in store as costs balloon.
Shares fell 3.1% to 980p as the business warned of the impact of inflation in its full-year results this morning.
Greggs reported a third consecutive year of strong annual growth as its range of healthy sandwiches, burritos, coffee, breakfast deals and traditional sweet and savoury offerings proved a hit with customers.
However, the group also announced more job losses were on the way as it moved on with simplifying the supply chain, moving to more centralised manufacturing and closing bakeries.
"2017 is going to be a year where conditions are tougher and the UK consumer outlook is more challenging than we have seen in recent years, with industry-wide pressures emerging in commodities as well as labour costs," Whiteside said.
The rise in the national living wage and the introduction of the apprentice levy in April will add up to another £4.5m to Greggs' labour costs, he added.
Commodity inflation driven by cycles in the commodity markets as well as the devaluation of the pound since the Brexit vote is expected to squeeze profits in 2017.
Ingredients used to make its pasties and sweet treats have soared in price in recent months, with dairy and protein prices recording double-digit increases.
"We are the leading value-led brand so are not in the game of wanting to pass this on," Whiteside said. "We're fighting tooth and nail not to and are trying as best we can to protect headline pricing, especially in sensitive areas such as meal deals."
He added that any price rises would amount to "pennies" on products and categorically ruled out shrinking its goods to save money. "That is one strategy we will not pursue," Whiteside said. "We will not make the product worse in order to protect price points."
The £100m five-year investment plan announced in March 2016 would also help offset some of the input cost inflation as the business becomes more efficient, he added.
At the time, Greggs revealed it would close bakeries in Edinburgh, Twickenham in London and Sleaford in Lincolnshire, leading to 355 redundancies.
Today, the business said it was consulting with more staff as it looked to consolidate its remaining nine bakery sites.
Whiteside added that the group would also create "thousands of jobs" as it expanded the store base from 1,750 to more than 2,000 strong, with 100 new sites expected to be opened in 2017.
Revenues increased 7% to £894.2m in 2016 as Greggs opened 66 net new stores, with like-for-like sales up 4.2%, down on the 4.5% growth in 2015.
Pre-tax profits before exceptional items rose 10% to £80.3m, but one-off costs, including redundancy payments for staff at the closed bakeries, of £5.2m pushed overall growth down to just 2.9%. Another £12m of exceptional charges are expected in 2017 as more bakeries close.
Like-for-like sales in the eight weeks to 25 February 2017 recorded a rise of 2%, with total sales up 5.8%.