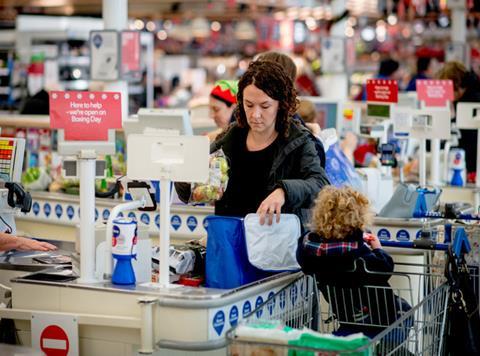 Top story
The latest grocery market share figures have showed the weakest supermarket sales growth since March 2017 as the industry heads into the vital Christmas trading period.
According to the latest figures from Kantar Worldpanel, the overall grocery market grew by 2% in the 12 weeks to 12 weeks to 2 December 2018, which represents its slowest rate of growth since March 2017.
Weakening inflation is the primary reason behind the weaker growth, with grocery inflation back to 1.6% having stood at 3.6% in December 2017.
Despite the slowdown spending at Christmas is expected to hit its highest level to date, with overall sales in December anticipated to reach £10bn.
The Co-op is one of only three retailers to win market share this period, increasing sales by 4.5%, while the discounters both Aldi and Lidl experienced double-digit growth over the last 12 weeks at 12.2% and 11.2% respectively.
Of the big four Asda was the best performer, with sales up 12.2% over the 12-week period. Morrisons (MRW) saw sales rise 0.5%, while Sainsbury's (SBRY) and Tesco (TSCO) saw sales drop by 0.2% and 0.1% respectively.
Fraser McKevitt, head of retail and consumer insight at Kantar Worldpanel, commented: "Consumers are benefiting from falling inflation. Over the summer shoppers upped their weekly trips to the grocers as they took advantage of the hot weather, but with the mercury dropping the number of trips has tailed off – again contributing to waning market growth."
"Because of the way Christmas falls, grocers have an extra trading day this year meaning overall sales in December – up to and including Christmas Eve – could reach £10 billion. Despite an uncertain political climate taking its toll on consumer confidence, shoppers are still willing to spend that little bit extra on more expensive goods."
Meanwhile, market share figures from Nielsen also showed weak sales momentum across the industry, with headline growth of 2.3% in November.
However, Nielsen predicted that grocery shoppers will spend £7bn in the crucial two-week period ending 29th December, with potential growth of 4% compared with the same period last year if predictions are met.
Mike Watkins, Nielsen's UK head of retailer insight, said: "It's been a slow start to Christmas in 2018, and in particular for the grocery multiples. The good news is that we still expect shoppers to spend on seasonal treats and indulgences as well as premium food and drink when shopping and to enjoy the festive season with family and friends. This will provide some much-needed sales momentum in particular for the big supermarkets.
In terms of retailer performance among the big four supermarkets in the 12 weeks to 1 December, Asda was the fastest growing store (+1.5%). Morrison's growth was flat (0%), while Tesco and Sainsbury's were slightly down (-0.1% and -0.4% respectively).
The Co-op and Iceland were up by 3.4% and 4.1% respectively, while Aldi and Lidl grew by 12.8% and 12.1% respectively.
Morning update
2 Sisters owner Boparan has once more posted widening losses in its first quarter as it continues to tackle its "substantial turnaround challenge".
Like for like sales in the 13 weeks to 27 October were up 0.2% to £708.3m, which represented a total sales fall of 16.6% after the divestment of a number of businesses.
Like for like operating profit fell from £5.5m to just £0.9m representing an operating profit margin of just 0.1%.
Profit post exceptional items, but before interest and tax was down 75% to £2.1m while statutory loss after exceptional items, tax and interest rose to £10.8m from £6.6m in the same period last year.
Boparan said its core poultry performance stabilising, despite significant feed inflation.
Like-for-like sales in its protein division were up 0.4% in the quarter to £470.8m, while the like-for-like operating loss widened to £3.1m from a profit of £0.6m last year in the face of "substantial commodity headwinds".
Its chilled division saw a like-for-like sales increase of 4.5% to £158.5m and like-for-like operating profit rose by £0.8m to £2.6m, while branded like-for-like sales fell by 8.1% to £79m and like-for-like operating profit reduced to £1.4m due to weaker sales of Fox's biscuits.
2 Sisters Food Group CEO Ronald Kers commented: "We have made it clear that the size of the turnaround challenge is substantial, and to achieve success on this scale will take time. We have diagnosed the fundamental operational issues and the management team know what levers to pull to drive change through the organisation.
"Positive momentum is building and we are implementing improvements, both with 'low hanging fruit' and longer term strategic objectives.
"We are in stabilisation phase with our poultry business, and it is critical we make further operational efficiencies and improve margin as the financial year progresses to address ongoing input cost inflation. We will also make targeted investments that deliver real, tangible financial returns, for example in our Polish poultry and meals businesses.
"There is an enormous amount of work still to do and it will take time before we see green shoots of growth. However, we are focusing on our core with a new team, laying strong foundations for a more consistent performing and profitable business and have a plan of action which is realistic and can be executed."
On the markets this morning the FTSE 100 recovered by 0.4% to 6,748.8pts.
Early risers include C&C Group (CCR), up 3.7% to €3.05, McColl's (MCLS), up 1.8% to 67.2p and Premier Foods (PFD), up 1.7% to 34.7p.
Fallers include Morrison (MRW), down 1.5% to 220.2p, Greencore (GNC), down 1% to 168.8p and B&M European Value Retail (BME), down 0.9% to 313.6p.
Yesterday in the City
The FTSE 100 dropped a further 0.8% back to 6,721.5pts yesterday while the pound hit its lowest level for 20 months after Prime Minister Theresa May cancelled the parliamentary vote on her Brexit agreement.
Some stocks that rely on international earnings were boosted by the pound's weakness, with British American Tobacco (BATS) up 2.2% to 2,271p, Imperial Brands (IMB), up 1.7% to 2,377.5p and WH Smith (SMWH) which has a growing global travel business, up 1.5% to 1,900p.
However, most stocks were in the red, particularly those that rely on UK consumers.
UK supermarkets fell, including Marks & Spencer (MKS), down 2.3% to 275.8p, Morrisons (MRW), down 2.1% to 223.5p, Sainsbury's (SBRY), down 1.8% to 294.5p, Ocado (OCDO), down 1.6% to 789.8p and Tesco (TSCO), down 1.3% to 196.5p.
Other fallers included Greencore (GNC), down 5.6% to 170.5p, Associated British Foods (ABF), down 3.6% to 2,161p, Dairy Crest (DCG), down 2.9% to 434.8p and B&M European Value Retail (BME), down 2.5% to 316.4p.
More of the day's biggest fallers included Domino's Pizza Group, down 8% to 237p, Devro (DVO), down 5.5% to 161.6p and Hotel Chocolat (HOTC), down 5.1% to 280p.