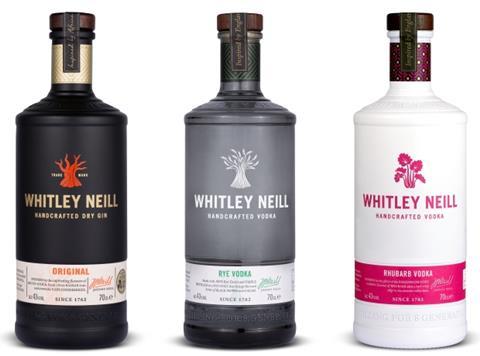 Halewood Wines & Spirits tripled its profits this year, continuing the distributor's impressive turnaround.
Operating profits at the Liverpool-based company surged by almost £10m to £14.3m for the year ending 30 June 2018, records filed with Companies House show, as sales of its myriad brands - which include the phenomenally popular Whitley Neill gin - grew £48.4m to £265.1m. EBITDA more than doubled, growing from £10.7m to £22.8m.
This time three years ago Halewood was more than £8m in the red, and sales had fallen £38m.
Halewood said the results reflected "the impact of additional listings in key supermarkets" and hailed a "successful strategy of new product development in artisanal spirits and craft beers, combined with key strategic acquisitions".
The past year has seen Halewood add numerous new products to its roster, such as Beluga Vodka, Dead Man's Fingers rum and a raft of new flavours for Whitley Neill. Whitley Neill has been one of Halewood's greatest recent successes - it's Rhubarb & Ginger Gin, for instance, grew its value sales by a whopping £18m last year, making it one of the fastest growing booze brands in The Grocer's Top Products 2018 report [Nielsen 52 w/e 8 September 2018].
"Acquisitions and investment into distilling, brewing and production capability over the last three periods in gin, whisky and craft beer in the British Isles and South Africa will provide future potential in these high-growth categories," added Halewood.
Halewood said it planned "further vertical integration and internal investment in distilling and brewing capability", noting the ongoing development of its Aber Falls distillery in North Wales and the £7m facility it is currently building in Edinburgh for its recently resurrected John Crabbie whisky brand.
Halewood is currently up for sale - national news reports claimed in September it was in talks with the private equity arm of Lloyds Banking Group to secure a deal of up to £300m. However no further announcements have been made.
Halewood CEO Stewart Hainsworth was named as one of The Grocer's most powerful people in booze last year.