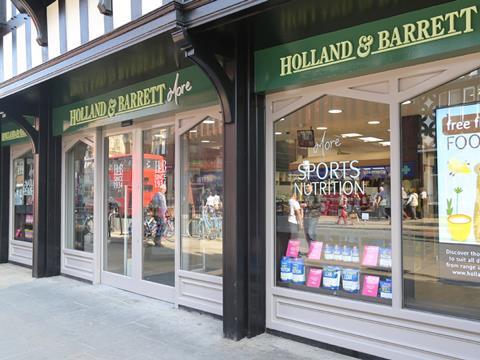 Holland & Barrett reported record Christmas and January sales driven by demand for vegetarian options.
The retailer saw like-for-like sales increase 3.4% over the six weeks to 1 January, with sales of nut roasts and Tofurky up 25%. It also posted its best results for the first two weeks of January, when like-for-like sales increased by 13.8%.
Chris Keen, Holland & Barrett CFO, said: "The number of people discovering food allergies or choosing to switch to specific health diets continues to increase, particularly vegetarianism and veganism, and this is driving greater demand for Holland & Barrett's product ranges.
"Many people view the Christmas and the New Year period as a health challenge – resisting the urge to overindulge and countering with healthier alternatives."
Winter illness and healthier living had also driven a 14% increase in vitamin C sales over Christmas and the new year, Keen added, while new product lines such as turmeric powder and CBD Oil were also proving popular.
Sales of the CBD Oil - an active substance found in hemp oil - have leapt 37% since it launched in H&B stores four weeks ago.