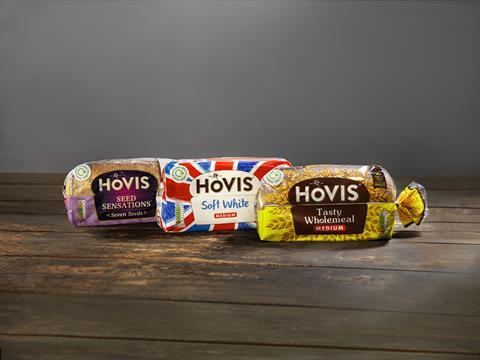 Wrapped bakery stalwart Hovis experienced a sharp drop in profitability last year as soaring costs hit margins despite maintaining its Covid sales gains
Sales edged up from £360.7m to £361.2m in 2021, according to newly filed accounts, after rising 8% in 2020 on surging demand during the pandemic.
However, profits fell 73%, with EBITDA down from £13.8m to £3.7m after "significant" increases in ingredients and utilities costs in the second half of 2021, further compounded by "changes in the dynamics of the supermarket grocery sector and the continuation of challenges related to the Covid-19 pandemic", the accounts stated.
As a result gross profit margins decreased from 27.1% to 23.2%.
Hovis, which was bought by private equity firm Endless in November 2020 from joint owners Gores Gropu and Premier Foods, said it was the only bread brand to grow its market share in the period, "despite a number of challenges impacting the industry".
"Our financial results reflect the continued program of efficiency across our supply chain. However significant increases in ingredients, labour and utilities costs led to the need for Hovis to pass inflation to customers."
The group said it did not expect the current difficult trading environment and inflationary pressures to improve over the medium-term.
"However, Hovis is a well-funded business, with a strong balance sheet and the board is confident we have the right strategy to drive long-term sustainable growth," it stated.
The accounts show its new owners have booked in a one-off "bargain purchase" gain of £22.5m, having paid a cash sum of £39.8m to acquire net assets worth £62.3m.
Hovis Group's headline profits, with pre-tax profits of £47.3m for the 14 months to 31 December 2021 since the acquisition, were also boosted by an exceptional £31.4m gain from the sale and leaseback of sites in Glasgow, Bradford and Nottingham.
Despite lower profits, Hovis said it was the best-performing major brand in bread during the last 12 months through a combination of enhanced products, distribution gains and consumers reverting to brands they trust.
During this period, Hovis became the number one brand in impulse, as well as experiencing significant levels of growth both from Hovis Soft White and Hovis Seed Sensations.
The brand also pointed to the contribution of NPD, including the launch of entirely new product range "Bakers Since 1886" during the period which has received "positive consumer response".
Last month The Grocer revealed CEO Nish Kankiwala would step down in September after eight years at the group. Non exec director and previous Warburtons MD Robert Higginson will step in as interim CEO until a successor is found.
Hovis has also made a string of senior appointments since the Endless acquisition, including hiring former Carlsberg VP for on-trade sales Alistair Gaunt as commercial director and former 2 Sisters operations director Chris Bradley as supply chain director.