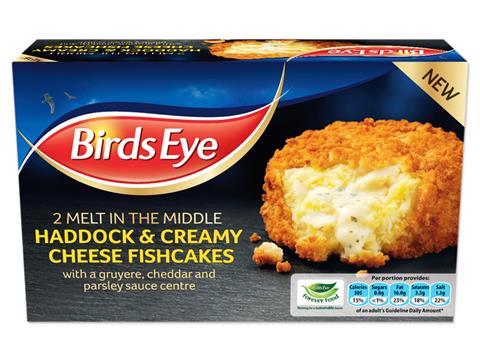 Sales at Birds Eye owner Iglo have fallen 8.4% to €315.5m (£222.8m) in the third quarter as it exited markets in Romania, Slovakia and Turkey and was hit by currency exchange rates.
Nomad Foods, which bought the frozen food group for €2.6bn earlier this year, said like-for-like sales in the three months to 30 September were down 11.2% as a result of the difficult retail environment in its three largest markets.
Pro-forma adjusted EBITDA for the quarter decreased €10m (13.6%) to €63.6m (£44.9m) as gross margin fell by 3.3 percentage points to 32.5% driven by increased promotional investment and the impact of lower volume recoveries.
Nomad added that it also expected to make up to €10m more in savings from its £500m acquisition of Findus Group's European operations. The investment group initially announced a synergy target range of between €25m and €30m over the next three years. It now expects the figure to be between €30m and €40m following further analysis.
Nomad CEO Stéfan Descheemaeker said: "Our overall third-quarter performance was in line with our expectations at the time of the acquisition of the Iglo Group, taking into account the continuing difficult retail environment across our three largest markets.
"As we look forward to fiscal 2016, we are confident our revised strategy (shift from innovation to renovation, revenue management focus, recalibration between local and global), our renewed cost savings program and our management changes will enable us to improve results and take advantage of the growth opportunities in Europe."
In the half year, Nomad sales were €418.3m and the group made a loss after tax of €390.3m as a result of €349m of non-cash charges related to a founder preferred shares dividend and €29.4m of acquisition costs for the Iglo deal. Pro-forma revenue for the nine months to 30 September decreased by €47.2m, or 4.3%, to €1.1bn.
Noam Gottesman, Nomad Foods co-chairman and founder, added: "I am impressed with the progress that Stéfan and his team have made in repositioning Nomad with a strong platform of well-known frozen foods brands.
"Our strategic acquisitions of Iglo and the Findus Group's continental European business will increase Nomad's market share across Europe and allow us to yield substantial cost-saving synergies. I believe these transformative acquisitions coupled with the execution of Stéfan's strategic vision for long-term growth will lead to long-term value for shareholders as we build a best-in-class global consumer foods company."