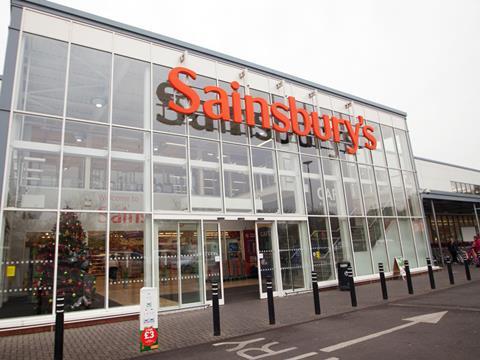 Sainsbury's (SBRY) was once again the weakest performing of the Big Four grocers in the monthly market share figures from Kantar Worldpanel, but investors are continuing to keep faith with the grocer.
The grocery market share figures for the 12 weeks to 12 August found Sainsbury's lagging behind its rivals, posting sales growth of 1.2% over the period compared to 2.7% for Morrisons (MRW), 2.6% for its future merger partner Asda and 1.8% at Tesco (TSCO).
The period was the ninth in succession – every period since Christmas 2017 - that Sainsbury's has shown the lowest sales growth of the big four. The latest figures represent Sainsbury's fastest growth since January 2018, but Shore Capital argued the warm summer weather should have benefitted Sainsbury's more than its rivals.
"The weather has been a good deal better in the more southerly and eastern counties of England than those in the country's northern and western parts. As such, those supermarkets, like Sainsbury, with a strong presence in the 'south & east' should, all things being equal to our minds, be doing better; but it is not," the broker said.
It added: "We wonder if Sainsbury's focus upon lowering its operating cost base is going too far, so removing too many hours from the floor overlaid by wastage targets that may be prohibitive to availability; remarkably we have seen this so many times before."
However, investors reacted to the figures by sending Sainsbury's shares up 1.1% to 338p on Tuesday and up another 1% to 341.5p on Wednesday, hitting a four year share price high of 341.8p in the process.
The resurgence of Asda is clearly being priced into Sainsbury's shares, with the latter's share price now up 32.2% over the past six months primarily driven by news of the merger.
However, the Kantar Worldpanel four week data – which is inherently more volatile – also shows Sainsbury's surprisingly as the best performer of the big four. Its sales purely over the past month were up 3.5%, compared to 3.4% at Morrisons, 2.1% at Tesco and 1.8% at Asda.
Bernstein also stressed that Sainsbury's does not have the benefit of "recovering from a collapse in prior years" like its other big four rivals and that the supermarket is likely to be gaining the most from sales that are not captured by Kantar, such as food-on-the-go, concessions and some non-food sales. "This period showed a slight improvement, and volumes are likely getting closer to stabilization," Bernstein concluded.
The best 12-week performer Morrisons saw its shares rise 1.6% on Tuesday and a further 0.5% on Wednesday to 269.4p to set its own record share price high since 2013. Tesco edged back 0.4% to 255p on Tuesday before recovering back to 256.1p on Wednesday.
Shore Capital commented: "Similar themes remain at play for Morrison and Tesco. Both companies are well into their recovery programmes and so lapping more challenging multi-year comparatives. Both businesses are engaged in structural cost reduction and sustained capital discipline that is transforming their respective free cash flow credentials."