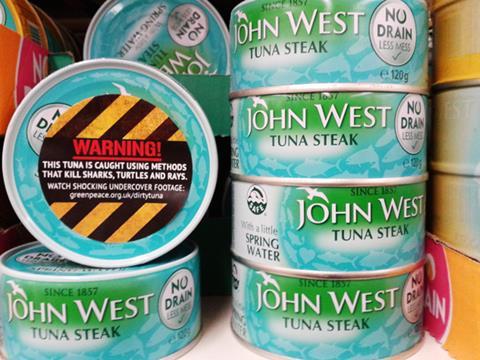 John West revealed a big jump in profits this week, as it came under fire for "trashing the oceans for cheap tuna".
The canned tuna supplier, which was this week ranked last in Greenpeace's annual Tuna League Table, has reported that profits soared 26.2% to £20.8m in 2014, with profit margin up to 10% from 8.1% last year. Revenues were 2.2% in the year to £208m.
The company said the profit gains reflected "continued market value growth" and an improved product mix.
The Greenpeace table ranked brands and retailers on factors including sustainability levels, fishing methods, traceability, and protection of local workers, with John West singled out for its continued use of fish aggregating devices (FADs). "In 2011 John West guaranteed consumers its tuna would be 100% sustainable by 2016 - but with little over a year to go, a pathetic 2% of its tuna is caught in a way that minimises harm to other marine life," said Greenpeace UK oceans campaigner Ariana Densham. She claimed many UK supermarkets were committing to sustainably caught tuna, including pole-and-line.
But a John West spokeswoman said the company was "committed to sustainable sourcing", noting it was the first company to sign up to WWF's Sustainable Seafood Charter last year.
She claimed there was not enough pole-and-line tuna available to meet demand, and said FADs were "effective at targeting single species and minimising bycatch" if properly managed. She pointed out 90% of John West tuna sold in the UK came from the skipjack species, whose stocks are considered healthy.