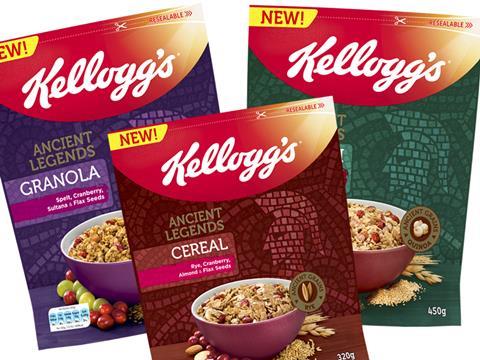 Kellogg's (K) has boosted profits in the second quarter thanks to its cost-cutting measures but sales continued to fall, with weakness in the UK cereal market and the Brexit vote to cause greater currency disruption than expected going forward.
Operating profits in the three months to 2 July rose 9.1% to $449m, driven by a better-than-expected performance in inflationary Venezuela and cost savings in North America.
Kellogg's, which like other US food and consumer goods giants has struggled for growth in recent years, has focused on refreshing its range of cereals and snacks to appeal to consumers, especially in the US, who are increasingly turning their backs on cereal for healthier breakfasts.
However, sales remain in decline, falling 6.6% in the second quarter to $3.3bn, an improvement on the 10.6% drop in the last three months of the previous financial year.
It added that cereal had stabilised in the US and Australia, emerging markets recorded good growth and Pringles performed strongly worldwide.
In Europe, the group posted a $21m decrease in revenues in the quarter to $629m, driven mainly by currency translation. Sales were flat when FX effects were stripped out as broad-based growth in Pringles and healthier snacks were offset by softness in the UK cereal market.
"We're making good progress on our priorities," CEO John Bryant said. "We have continued to improve our foods to insure they are on trend; we've continued to expand the Pringles business worldwide; we're enhancing our sales capabilities; and we are designing and executing productivity initiatives that are contributing to more profit-margin expansion than we previously anticipated."
The overall savings being made by the group led the US cereal maker to raise its 2016 earnings outlook and predict full-year profit growth will come in at the high end of its 4-6% range. Kellogg's said it expected higher savings from its 'zero-based budgeting' in North America, where managers have to build budgets from scratch each year, along with the roll-out of a similar programme internationally.
Cost cutting is expected to mask the shrinking top line, which is now forecast to be at the low end of the 0-2% range.
Currency headwinds are expected to more negative than previously estimated in the aftermath of Britain's vote to leave the EU, Kellogg's added.