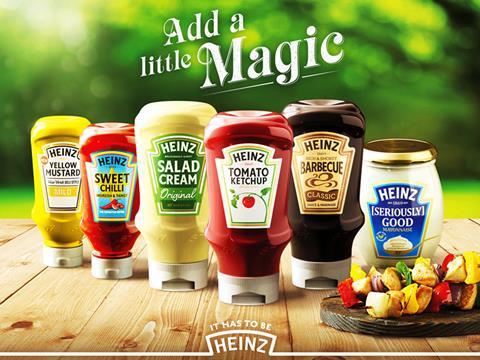 Kraft Heinz is feeling the squeeze from tumbling tomato ketchup sales as UK consumers turn away from the brand's iconic product lines.

Newly filed Companies House accounts from the US group's UK subsidiary HJ Heinz Foods UK show a 16.3% collapse in annual sales to £708.9m in the 52 weeks to 1 January 2017 from £846.7m in the 53 weeks to 3 January 2016.

The accounts reveal that in particular its Tomato Ketchup sales plunged by 13% year-on-year, which it attributes to weak performance in the first half of 2016 and a step back from the strong promotional activity it undertook in 2015.

Heinz dominates the table sauces sector in the UK, accounting for 44.9% of total sales [Kantar Worldpanel 52 w/e 23 April 2017], and has been particularly hit by the category's decline amid mounting pressure from the discounters and consumers shifting to more premium products and less traditional flavours.

Latest figures from the The Grocer show overall sales of ketchup in the supermarkets are tanking, down 2.7% to £145.5m on volumes down 4.2% [Kantar Worldpanel], the equivalent of roughly 6 million fewer standard bottles.

Consumers are not just turning their backs on ketchup, with other key Kraft Heinz categories canned beans and soups also in structural decline.

Heinz Beanz sales fell 5% last year, driven by the longstanding category decline and only partially compensated by market share gains driven by stronger promotional activity and growth within its reduced salt and sugar varieties. Sales of Heinz soups plunged 16% as deep price cuts and an "erosion of value" accompanied a lack of volume growth.

The Heinz Foods accounts show overall comparable sales fell 11.9% in the year as the company also lost market share in infant feeding.

However, the collapse in its traditional SKUs has been partially offset by growth in other, newer product lines. The accounts show a 50% jump in its mayonnaise sales following the launch of its premium range of Seriously Good Mayonnaise in 2016.

Heinz's also launched a thick chilli sauce range and its Creationz line of tinned beans in four world food flavours.

Like the wider Kraft Heinz Group, Heinz in the UK has undergone significant cost efficiencies in recent years, which helped gross margin improve to 30.5% from 28.5% during the year as cost of sales fell by 18.7%. Pre-tax profits for the year dropped by 29.9% to 108.8m from £155.2m.

Average headcount at the group remained relatively stable at 496 during the year compared to 492 last year, though employment costs dropped from £40.8m to £35.4m.

The wider global Kraft Heinz last week announced another fall in quarterly earnings as 3G Capital and Berkshire Hathaway majority-owned group shows little sign of addressing its falling sales.

Net sales for the second quarter decreased by 1.7% in the three months ended 1 July to $6.7bn, with organic net sales down 0.9% during the period.

However, net income attributable to common shareholders increased 50.5%, while adjusted EBITDA increased 1.9% on a constant currency basis as cost cutting continued to boost the bottom line.
Kraft Heinz declined to comment on the newly filed UK results.