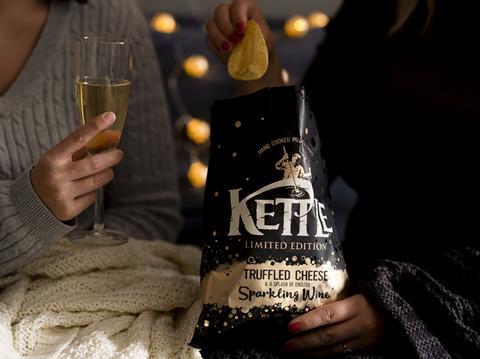 Bagged snacking brand Kettle has bounced back into the black following its acquisition by Valeo Foods, as the CapVest-owned group further expands its snacking empire.
Kettle, which Valeo bought in October 2019 for £66m, saw operating profits of £537k in the eight-month period to 31 March 2020 compared with a loss of £974k in the previous year.
The improvement in profitability came despite a further drop in revenue, with eight-month sales of £55.9m down more than 5% on a pro-rata basis from the £88.7m in the previous year. Increased profitability reflected improvements in manufacturing costs and overhead spend.
Kettle Foods MD Ashley Hicks also said the integration of Kettle into Valeo "has helped open up access to new international markets outside of the UK where we have growth ambitions".
He said 2020 had seen a reduction in on-the-go volumes, but that had been offset by incremental sales of Kettle and Metcalfe for in-home consumption.
"2020 has been an unprecedented year for our colleagues, customers and consumers but our team has worked hard to maintain record service levels to our customers," he said.
Additionally, in the week before Christmas, Valeo further boosted the breadth of its snacking portfolio with the acquisition of tortilla chips maker It's All Good for an undisclosed sum.
The producer of the Manomasa tortilla chip and own-label lines "leaves us in a strong position for 2021", Hicks said.