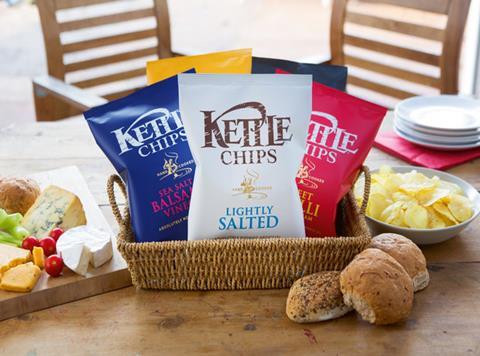 Kettle Foods has fallen to a pre-tax loss in the UK after it lost a big chunk of market share and was dragged into an intense promotional war for shelf space.

Newly filed accounts for the Kettle Chips owner in the UK showed the snacks producer, which includes popcorn brand Metcalfe's Skinny, plunged to a pre-tax loss of £42k from a profit of £8.2m in the previous financial period.

Total sales reached £89.6m in the year to 31 December 2017, which was down from £120.4m in the previous financial period that ran from August 2015 to the end of December 2016.

On a pro-rata basis sales improved by 5.5% given the shorter trading period, but the accounts show market volume share fell from 4.6% to 3.3% last year.

The Kettle accounts blamed the bottom line loss on "intense" competition in the market and investment in the brand to protect market share.

It noted "the level of competition within the snack and crisp market" led it to maintain to volume of the brand sold on promotion "in order to meet product category and consumer demands".

One market observer noted that Kettle has found itself having to compete heavily for shelf space under pressure from Walker's Sensations, premium own-label offerings and healthy snacking alternatives.

"Kettle has promoted its backside off to get space in shops rather than invest in its connection with the consumer," the source noted.

Another source suggested the majority of Kettle volumes were subject to deep promotions despite its production process being significantly more expensive than non-hand cut rivals.

Kettle said that due to changes in its ownership structure and resulting changes in financial calendars its financials did not represent "comparable time periods".

It added : "The market remains competitive and we continue to make a number of ­investments in our brands and manufacturing sites which support our long-term business plans."

However, Brand View data shows the pressure on Kettle has continued in 2018 as it lost a number of listings at Asda in July, with just six SKUs now listed at the supermarket.

Kettle was bought by troubled US food group Campbell Soup Co in a wider $4.9bn (£3.7bn) deal for owner Snyder's-Lance in December 2017.

Campbell's CEO Denise Morrison was forced to resign in May amid a damaging profits warning. The group, under pressure from activist investors, has since announced it will sell its fresh and international divisions. The non-US business of Oregon-based Kettle are not thought to be included in the sell-off plan at this stage.