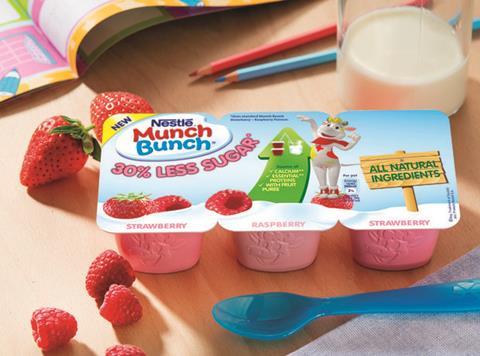 The yoghurt-focused JV between Lactalis and Nestlé has slipped into the red in the UK amid a "very competitive and declining market".

Lactalis Nestlé Chilled Dairy Company, which produces brands including Ski and Munch Bunch, saw group turnover fall 3.6% to £151.8m in the UK for the 2014 calendar year, according to newly filed accounts at Companies House.

That translated to a 9.7% decline in gross profit and a pre-tax loss of £1.2m compared with a £455k profit in 2013.
The accounts said the joint venture maintained its 7.9% share of a "declining market", while the operating loss reflected the current trading environment.
"The key factor driving this was the inability to increase selling prices to the retailer to compensate for the increase cost of ingredients," the company stated.
"The external environment is expected to remain competitive in 2015. As the supermarket price war intensifies, building relationship with customers, product innovation, employee retention, commodity, energy and utility costs, as well as the management of overheads, will continue to be key focus areas.
Despite the operating loss, the company reported a £2.7m statutory profit for the year (up from £501k in 2013) due to a £3.9m positive tax adjustment.
The wider France-based Lactalis Nestle group was amongst eleven French yoghurt makers fined €193m for taking part in a price-fixing cartel for six years in March 2015.