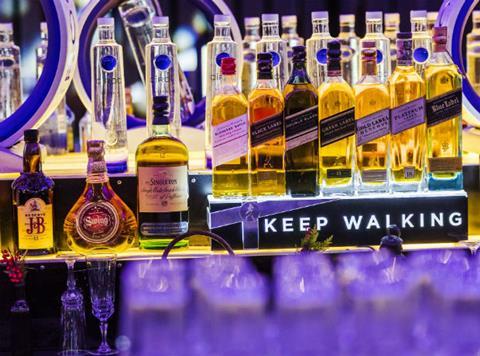 Top story
Annual profits at global spirits giant Diageo have almost halved amid write-downs of £1.4bn and an 8.4% slump in sales due to closure of pubs and restaurant, the cancellation of sporting events and a plunge in travel retail.
Diageo has posted an 8.7% decline in reported net sales to £1.8bn for the year to 30 June, with organic net sales down 8.4% amid an organic sales volume drop of 11.2%.
Modest growth in North America was more than offset by significant declines in other regions.
North America delivered net sales growth of 2%, with growth in all three markets, US Spirits, Diageo Beer Company USA and Canada. Strong net sales growth in the first half of the year was only partially offset by lower on-trade sales in the second half, reflecting strong demand in the off-trade channel during Covid-19.
However, in Europe net sales were down by 12% after growth in the first half was more than offset by the impact of Covid-19 in the second half as high on-trade exposure significantly impacted markets across the region and travel retail was "significantly impacted".
In Great Britain, net sales declined 4%. Solid first half results were offset by the impact of on-trade closures from March despite an increase in off-trade sales. The impact was further amplified by the cancellation of significant sporting and cultural events. Continued growth in rum and liqueurs were offset by declines in beer, scotch, wine and vodka.
Guinness was impacted by on-trade closures and the decision to support customers, and maintain product quality, through a keg return scheme.
Reported operating profit of £2.1bn was down 47.1%, driven mainly by exceptional operating items and the weaker organic net sales.
Exceptional items totalling £1.4bn included non-cash impairment charges of £1.3bn.
One-off charges included £655m for its Indian business due to the general economic downturn further aggravated by the Covid-19 pandemic, £434m on its Windsor Premier brand in Korea as the Covid-19 pandemic negatively impacts the challenging whisky category in the country and impairments of £84m and £55m on its Nigerian and Ethiopian businesses.
Organic operating profit was down 14.4%, driven by volume declines, cost inflation and unabsorbed fixed costs that were partially offset by short term cost reductions and ongoing productivity benefits.
Diageo said it has taken measures to reinforce its liquidity, including pausing the current three-year return of capital programme, bringing forward a US$2bn bond issuance launched in April 2020 and putting in place an additional committed credit facility of £2.5 billion.
However, its final recommended dividend of 42.47 pence per share is the same as the final dividend for fiscal 19.
Given the continued uncertainty caused by the ongoing Covid-19 pandemic, Diageo said it was unable to provide an outlook for its 2021 fiscal year.
CEO Ivan Menezes commented: "Fiscal 20 was a year of two halves: after good, consistent performance in the first half of fiscal 20, the outbreak of Covid-19 presented significant challenges for our business, impacting the full year performance. Through these challenging times we have acted quickly to protect our people and our business, and to support our customers, partners and communities.
"The actions we have taken to strengthen Diageo over the last six years provide a solid foundation to respond to the impacts of the pandemic. We are now a more agile, efficient and effective business.
"While the trajectory of the recovery is uncertain, with volatility expected to continue into fiscal 21, I am confident in our strategy, the resilience of our business and am very proud of the way our people have responded. We are well-positioned to emerge stronger."
Diageo shares have dropped 5.5% to 2,721.5p on the news.
Morning update
NWF Group, the specialist agriculture distributor of fuel, food and feed across the UK, has announced a rise in annual sales and profits despite the disruption caused by the coronavirus outbreak.
Total revenues for the year to 31 May were up 2.4% to £687.5m, while headline operating profits were up 40.2% to £14.3m.
NWF said it had sustained delivery throughout the year, with revenue growth with increased activity levels in all divisions.
The group posted market share gains in Fuels and Feeds and solid operational performance in Food.
Three Fuels acquisitions completed and successfully integrated during the year, increasing the scale of the business by over 20%. It also saw significant outperformance in Fuels as a result of an unprecedented fall in the oil price, and a significant increase in domestic demand during lockdown delivered one-off gains.
Fuels posted headline operating profit of £11m, up from £5.6m, ahead of previous expectations.
Its Foods division's new 240,000ft warehouse increased our total storage capacity by 35% to 135,000 pallets, underpinned by long-term customer contracts. Headline profits fell to £1.4m from £1.8m due to start-up costs related to the warehouse expansion.
Feeds saw headline operating profit fall to £1.9m from £2.8m reflecting strong volume and market share growth in a smaller ruminant market
All divisions remained open and operational during the Covid-19 crisis, with high service levels maintained and no Government support utilised or no staff furloughed.
Chief exec Richard Whiting commented: "NWF has delivered a very strong set of results, ahead of previous expectations, demonstrating both resilience and growth.
"The fundamental resilience of the Group has been highlighted with the response to the Covid-19 crisis. Huge thanks must go to all our employees for their outstanding efforts in very challenging times. All our employees were designated as key workers, demand increased, deliveries to customers were completed and safe working and home working where possible were implemented in early March and remain effective today."
On the markets this morning, the FTSE 100 has largely held its gains from yesterday, edging down 0.1% in early trading to 6,026.3pts.
In addition to Diageo, fallers include Ocado, down 2.2% to 2,092p, Pets at Home, down 1.8% to 302.7p and Reckitt Benckiser, down 1.8% to 7,766p
Risers include SSP Group, up 4.2% to 214.4p, Marston's, up 3.9% to 39.9p and WH Smith, up 1.9% to 957p.
Yesterday in the City
The FTSE 100 jumped 2.3% up to 6,032.9pts yesterday as global investors become more confident about the state of the world economy despite fears over a second coronavirus wave.
Risers yesterday included Ocado, up 4.2% to 2,140p, Just Eat Takeaway.com, up 4% to 8,576p, Hilton Food Group, up 3.8% to 1,144p, DS Smith, up 3.8% to 271p and PZ Cussons, up 2.9% to 196p.
Diageo was up 2.9% to 2,881p ahead of its results this morning, while fellow FTSE 100 risers included Compass Group, up 2.6% to 1,078p and Reckitt Benckiser, up 2.6% to 7,906p.
Fallers yesterday included Nichols, which dropped 6.5% to 1,225p, Bakkavor, down 3.1% to 62p, Greencore, down 2.7% to 124.5p, Kerry Group, down 2.6% to €109.30, Premier Foods, down 2.4% to 84.8p and AG Barr, down 2.1% to 421p.