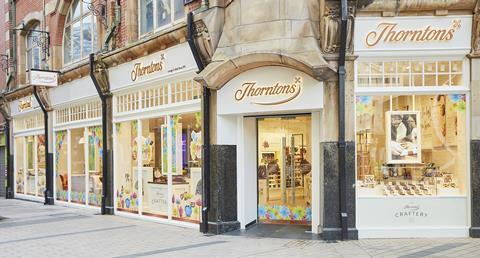 Losses have continued to mount at beleaguered chocolate maker Thorntons, driven by a further nosedive in store sales, newly filed accounts have revealed.
Owner Ferrero announced in March it was throwing in the towel on Thorntons' remaining 61 shops as the "tough and challenging retail environment" and the obstacles faced proved "too severe".
Revenues fell 15% to £103.7m as a result, meaning pre-tax losses for the year ended 31 August 2020 widened to £37.7m.
It means Ferrero has incurred more than £165m in losses since acquiring the business for £112m in 2015.
In the UK, Covid took a serious toll on an already struggling Thorntons, with lockdowns disrupting crucial trading at Easter, Mother's Day and Christmas.
International sales also tumbled during the year from £8.5m to £4.5m, with business in Europe collapsing from £4.3m to just £172k as a result of product rationalisation and the impact of Covid.
A Ferrero spokeswoman said it had invested more than £45m in Thorntons in the past six years to develop the business in manufacturing, retail, grocery channels and e-commerce.
"We understood that long-term investment was required to help shape the business, and we have a strategic plan in place to secure a future for Thorntons," she added.
Thorntons remained "a key priority" for Ferrero and "a valuable part" of the UK business, she said. "We continue to invest further in its future potential and are investing in building the brand in the grocery channels, e-commerce and through our franchise partners to meet the demand from our loyal consumers.
The 2015 purchase of Thorntons, which represented the first outside deal in the group's history, kicked off a global acquisition spree at Ferrero. In the UK, Ferrero has since acquired Eat Natural, Fox's and most recently Burton's Biscuits.
However, the performance of Thorntons has attracted staunch criticism from former executives at the confectioner.
Sales stood at around £200m when Ferrero bought the business and it traded from an estate of 242 owned stores and a further 158 franchise outlets.
Paul Wilkinson, who was chairman of Thorntons when the then plc was sold to Ferrero, told The Grocer in March the new owners "failed to understand the business model".
He said Ferrero were "hopeless retailers" and had done nothing to exploit the state-of-the-art production facility in Alfreton.
Ferrero are now concentrating efforts online and in the fmcg channel flogging Thorntons boxes in the supermarkets and discounters.
Its longstanding plan remains to establish Thorntons as a "high-premium" brand in fmcg, make the Alfreton factory a "centre of excellence" and a key hub for Ferrero Group in producing assortments and more Ferrero products for the international market.