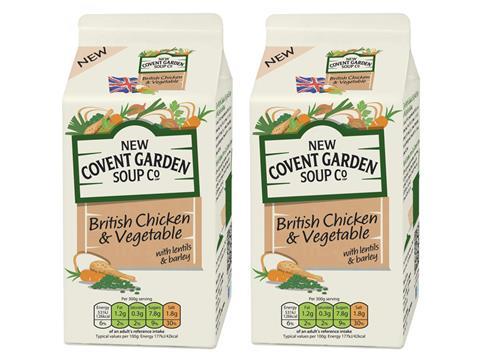 New Covent Garden soup owner Daniels Chilled Foods has slumped to a £9.1m pre-tax loss amid plunging sales and widespread restructuring.

Newly filed accounts for the year to 30 June 2017 show the Hain Daniels subsidiary recorded an almost £18m decline in turnover to £110.8m as it was hit by restructuring and the divestment of its own label fruit juice business.

The results come after the business, which manufactures soups, juices and cut fruits, announced earlier this month it would close its Peterborough soup manufacturing site, with the loss of 80 jobs.

Daniels recorded a loss before tax of £9.1m for the financial year, falling a further £3.2m into the red from its £5.9m loss before tax in 2016.

The company recorded a £13m drop in the cost of sales to £96.1m, but still saw losses increase due to "under-absorption of factory overheads and sales mix changes" according to the accounts.

Restructuring costs stemming from the closure of factories also contributed to £1.3m in one-off costs in the period. The restructuring drive has continued into the current financial year as the company focuses on "driving growth in turnover and profitability" the strategic report stated.

Following the acquisition of Orchard House Foods by Hain Daniels in 2016, the group's own label fruit juice business was sold to Multiple Marketing.

Orchard House is not incorporated in the accounts, but it too suffered a collapse in profitability in the year to 30 June 2017, with gross margin falling to 9.8% from 17.4% on revenues of £130.7m.

Since the period covered in the accounts, Daniels has stopped manufacturing Johnsons branded juices, which are now made by a "sister subsidiary company" within the group.

Parent company Hain Daniels' accounts for the year ending 30 June 2017 are currently overdue according to Companies House. In its last recorded results, for the year ending June 30 2016, Hain Daniels recorded a loss on ordinary activities before tax of £2.8m, a reduction from a £9.6m loss the previous year.

Hain Daniels also includes brands such as Linda McCartney's, Hartley's jam and Sun-Pat, and is itself a subsidiary of the American giant Hain Celestial.

The closure of Daniels' Peterborough soup site followed a review by Hain Daniels into its chilled desserts factory in Norfolk last year, which put jobs at risk.

Own label dessert business Farmhouse Fare is also incorporated in Daniels Chilled Foods Ltd. The business, which also filed its results last week, also saw pre-tax profits slide, falling from £3.2m to £2m for the year ending June 30 2017.

Sales at the private label and food service arm increased by a modest 0.5%, while costs increased on the back of "raw material cost increases".

The 2017 accounts for Daniels Chilled Foods are understood to detail sales from New Covent Garden Soup, it Johnson Juice Co brand, which it has since stopped producing, as well as own label soup, fresh fruit and dessert manufacturing arms.