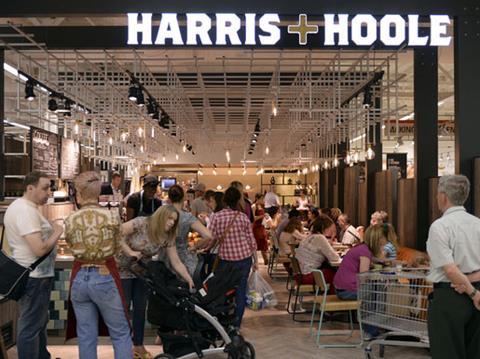 Annual losses at Tesco-backed coffee chain Harris + Hoole have widened to £12.8m as it counts the cost of its rapid expansion plans.
Companies House account show Harris + Hoole made a pre-tax loss of 12.8m and an operating loss of £11.3m on revenues of £6.6m for the year to 23 February.
Direct year-on-year comparisons are not possible as the firm's previous accounts were based on a 38-week period to February 2013. In that time, total losses were £5.2m on revenues on £785k.
The losses primarily stem from Harris + Hoole's aggressive growth plans, which saw the chain more than double the number of its outlets during the year. It opened 18 shops and closed one during the period, taking its total shops to 30.
The accounts state: "The operating loss of £11.3m reflects the early life cycle state of a number of the shops open at the end of the [year] and also the early development costs of the business."
Staffing levels across the business rose fivefold from 51 (and 39 shop staff) to 252, including 213 shop staff. Total employee costs rose from from £2.2m to £7.1m.
In August the chain confirmed it was to close six of its outlets in London and the South East after further building its store portfolio to almost 50. Five shops, including Walton-on-Thames and Hounslow were announced for closure, as well as one 'pop-up concession' in a Tesco store in Highbury.
Tesco, which bought a significant minority stake in the chain in 2012, began opening coffee shop branches in superstores last year as it aimed to turn out-of-town supermarkets into destination locations.
Harris + Hoole said it remained "well positioned to continue to grow sales and market share". It vowed to "deliver the best coffee experience on the high street by training the most engaged Baristas in the industry, forging close relationships with local suppliers and using the highest grade, ethically sourced coffee that is hand roasted each week."
Shore Capital's Clive Black commented: "Quite whether or not Mr. Lewis retains some or all of these sub-brands [Harris + Hoole, BlinkBox] remains to be seen".
However, he did see progress at the coffee chain despite its losses. "H+H's losses appear to largely be a function of growth as opposed to poor underlying performance… We have been impressed by the free-standing stores that we have seen in London (Cannon St., and London Wall) and can see how, if standards can be maintained, that H+H could distinctively, effectively albeit selectively contribute to the attractiveness of superstores and hypermarkets ‎across the UK."