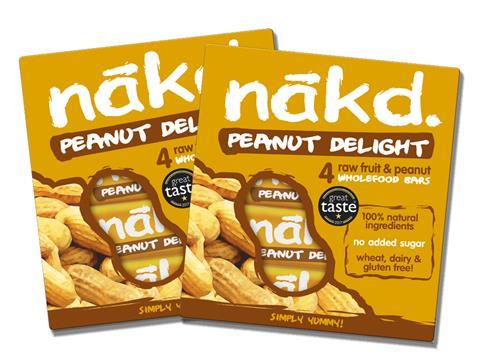 Nakd, Trek and Bear owner Lotus Bakeries increased sales in the first half of the year despite the coronavirus lockdowns hitting the performance of its UK snacks brands.
In the first six months of 2020 the group's consolidated turnover rose by 8.4% to €323.3m, driven by "significant growth" of its Lotus Biscoff biscuit brand, which it said was able to accelerate its international expansion during the period.
After a strong 2019, its 'natural foods brands' segment – including UK acquisitions Natural Balance Foods and Urban Fresh Foods – were negatively impacted by lockdown given their typical consumption out of home.
It said the the Nākd, TREK and BEAR brands, which are mainly consumed by active young people and families, as healthy alternatives that are also convenient, were "severely impacted" by the plunge in out of home consumption from mid-March onwards.
Its UK sales rose 5.8% to €77.5m despite the hit on snacking sales, albeit the 2020 results include the acquisition of child-focussed snacks brand Kiddylicious as well as the production of Lotus South Africa Manufacturing compared to the previous year.
Lotus said that all 12 of its group production sites remained operational throughout the first half of the year, albeit it incurred significant extra expense in order to ensure the safety of its employees and the continuity of its operations.
However, it said rapid adaptation to constantly changing circumstances, the commitment of its employees and strong revenue growth, translated into a healthy growth in profitability in the first half of the year.
Despite the extra Covid costs pre-tax profits were up 2.5% to €48.5m, while recurrent net profits were up 8.6% to €41.3m.
CEO Jan Boone commented: "The first half of the year, COVID-19 had a significant impact on operations and ways of working within Lotus Bakeries.
"As management, therefore extremely pleased that, together with our more than 2,000 employees, we have steered the business through this unprecedented crisis safely and successfully."
In the second half of the year, Lotus expects to see similar trends for its various brands and markets as in the first half given continued disruption from the pandemic.
It said consumption in out-of-home channels will not pick up until the pandemic is fully under control once more, noting that its Natural Foods concepts will benefit from the normalization of social life while the products are also on-trend in the quest for a healthy and active lifestyle.
Boone added: "The period under review has proven once more that Lotus Bakeries is built on firm foundations and that our strategy, our people and our products guarantee a successful future."
Also, the accounts revealed that during the first half of the year Lotus' corporate venture fund, FF2032, has invested in US corn snack brand Love Corn.
The $US5m brand produces four flavours of vegan, gluten free and non-GMO corn snacks and will look to grow in the US and the UK.