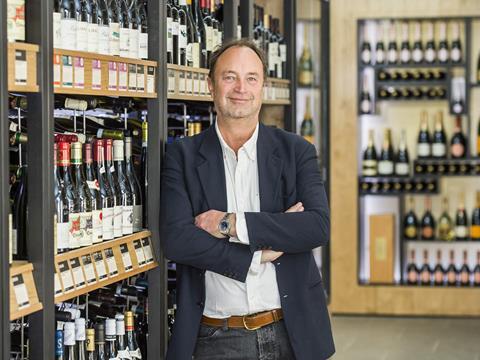 Majestic Wine has cut its store estate expansion plans after announcing a 22.5% drop in pre-tax profits.
As part of a full strategic review of the business being undertaken following its April purchase of Naked Wines, new chief executive and former Naked Wines boss Rowan Gormley said Majestic was cutting its maximum estate ambitions to 225-250 stores from its previously stated aim of 330.
Store openings will be limited to the 20-30 locations that will generate a reasonable return on investment after Majestic said ROI on recently opened stores was "unacceptably low".
This will mean that net-new store openings will fall to a handful a year from the previous figure of 10-15 per year. Last year it opened 10 (seven net) stores to give it a total of 212.
Majestic also plans to trial new customer-focussed store layouts and branding, which could result in the rate refurbs increasing from 10-12 per year to 25 per year. There will also be a trial of a smaller convenience store in London and – as previously reported by The Grocer – a test of single bottle purchases, rather than the current six-bottle minimum.
The full results from the strategic review to be announced at the time of interim results for the six months ended 28 September 2015.
Revenues were up 2.3% to £284.5m during the year to 30 March, with like-for-like sales up 1.9%. However, group profit before tax was down from £23.8m to £18.4m and gross profit margin fell by 30bps to 22.7%.
Gormley said: "Whilst my review of the business is ongoing it is obvious that we need to make investments to reinvigorate Majestic Wine.
"These investments will initially suppress profit in the short term but I am confident we can rebuild momentum in this excellent business. At the same time we aim to maintain the international growth trajectory of Naked Wine and crystallise the benefits of having the two businesses in the same group."
Gormley talked of a three-year timeframe for the turnaround plans, claiming that a higher level of investment will generate higher levels of future profit.
Majestic expects to invest £3m in this turnaround plan this year, mostly in the first half. It is also on track to invest £6m per year to recruit more Naked Wine "angels" and plans to grow this investment to £8m a year over the next three years.
Shares were down 4% today to 422.3p on the downwards revision to future profit guidance.
However, analysts at Canaccord Genuity were more upbeat, commenting: "The last few years have been tough with profit growth stalling. The Naked acquisition and the appointment of Naked founder Rowan Gormley as Group CEO provides an opportunity for a fresh take on what we believe is still a fundamentally sound business.
"The Naked deal will bring enhanced online and CRM capability to the core business, two areas in which Majestic has fallen behind in in recent years. We also continue to see significant potential to further grow the commercial/B2B business."
The firm said trading during the first two months of the year had been in line with expectations.
Share Price:
423.00p Change Today: -17.00p