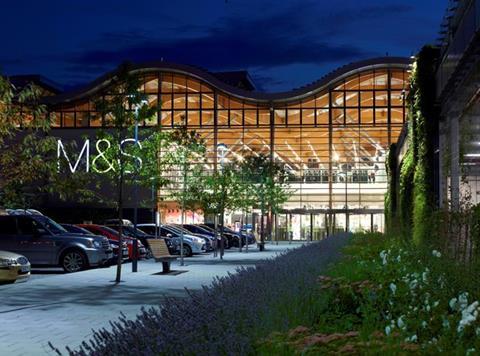 Annual profits at Marks & Spencer have fallen by 64% to £176.4m as a costly overhaul of the business hurt the bottom line, clothing sales declined further and like-for-like food sales went into reverse. Here's how leading City and retail analysts reacted to the news.
Barclays Equity Research
Barclays was "positively surprised" by the clothing result, which returned to growth in the third quarter and slumped by 5.9% on a like-for-like basis in the final three months of the financial year, vs Barclays -3.8%. However it said a poor food performance, down 2.1%, vs Barclays -2.5% and consensus -1.2%, may be disappointing. Like for like food sale forecasts were matched at -0.8%. A strong international performance helped EBIT, which came in at £691m vs Barclays at £671m and consensus at £679m.
"The most notable points are the beat on clothing and home gross margin and the clothing gross margin outlook, although there may be some disappointment on the slightly weak food performance," said Barclays.
"M&S trades on a FY18E PE of 13.3x the sector average of 15.0x (including Sainsbury on 13.5x and Morrison on 19.6x)."
Begbies Traynor
The corporate recovery consultancy notes amid the rise of value clothing retailers like H&M and Primark, M&S will have a tough balancing act to manage if it wants to attract new shoppers without ostracising the core customer base. It's primary failing however, has been the late pick up on online grocery retailing.
"In his first year as CEO of the high street darling, Steve Rowe has faced an uphill struggle in his bid to return Marks & Spencer to past glories," said Begbies Traynor partner Julie Palmer.
"While he has focused his first twelve months on addressing many of the retailer's structural problems, welcoming some retail big-hitters onto the Board, closing 30 of its largest stores and converting still more into food-only outlets, M&S is unfortunately still falling behind the curve, most of all when it comes to its notably absent online food offering."
Kantar Retail
Kantar Retail notes although M&S has transformed its meal for tonight offer by balancing quality and range rotation with a convenient solution, it has got to expand beyond high frequency, low spend baskets and encourage full shop trollies.
"M&S faces fierce competition in the meal for tonight segment as more and more mainstream supermarket rivals refocus small store operations to attack mission based consumption," said Kantar Retail senior analyst Anusha Couttigane.
"In this new environment, the rotation of its offer will continue to be M&S's biggest strength, as well as focusing on new and changing consumption habits such as Health & Wellness."
In clothing, Couttigane says M&S has done well to align itself with "culturally relevant lifestyle messages," including its Spend It Well campaign and recent appointments to its clothing team could make the difference.
"Having poached Halfords CEO Jill McDonald as its new MD of Clothing, Home & Beauty, the company has also announced that current Lingerie & Beauty director Jo Jenkins will move into the new role of Clothing & Beauty Director under McDonald. Given the fresh thinking McDonald could bring to the company and the roaring success of Jenkins' lingerie and beauty strategies to date, this could be the beginnings of a dream team that turns around Marks and Spencer's ailing clothes business."
Peel Hunt
The broker said the result is "nicely ahead of expectations" and the consensus should start to rise towards its unchanged high-end pre-tax profit number, £609.5m. Though like for like sales in general merchandise were down 2% underlying, which Peel Hunt said was "unsurprisingly slower" than Q3, its view is that current trading is strong and it still represented a gain in full price market share. The broker expects like for like sales to "surprise to the upside" this year as the retailer continues to make changes to drive shoppers into stores.
"Of course Q4 was slower than Q3 due to various technicalities but the underlying showing of -2% was satisfactory and on a full price sales basis it represented a market share gain," said Peel Hunt.
"We think that M&S is doing a lot of the right things and that in a tough market, the shopper is responding relatively well. Lower prices are now set in stone (there's no way that prices will rise this year unless everyone else does so first), service is better in the larger outlets, and merchandising is improved too. Q1 includes Easter, but more importantly the positive impact that a late festival brings to underlying trading, and the external conditions have definitely improved compared to last year."
Retail Vision
The retail consultancy slammed the M&S results as "nothing less than awful" and said M&S had ran out of excuses for its poor performance.
"For years the brand's successful food range provided a fig leaf that spared the blushes of its underperforming clothes ranges," said Retail Vision director John Ibbotson.
"No longer – stalling food sales and profit over the past year have revealed the full, naked weakness of the brand's unappealing clothing lines. With inflation eating into the profits of the once reliable food offering, and a string of one-off expenses slicing into profits elsewhere, the net result has been to send pre-tax profits tanking by nearly two-thirds."
Ibbotson welcomed the appointment of former Asda chief executive Archie Norman as new chairman but said M&S's foray into online retailing was too little too late and would not improve its performance.
"M&S remains a dysfunctional dichotomy - premium food with dowdy clothing," said Ibbotson.
Savvy
The shopper marketing agency says in this climate, even M&S will struggle to sell Easter eggs at £16 a throw and it cannot rely on its food operation to prevent stalling sales. Savvy also notes that Rowe's five year plan is too slow and too insignificant to win in a multichannel retail environment.
"A big point Mr Rowe raises today is selling at full price in clothing and reducing discounting," said Savvy CEO Catherine Shuttleworth.
"This is a tricky balance to strike - but existing M&S customers are still receiving a slew of big and constant discounts at the till, in the post and through the complex Sparks scheme. What has disappeared is external discounting that drives footfall on and off line and is a critical part of driving sales in today's retail environment. It's clearly missed by shoppers as there is no sign of growth in the figures. By removing this, M&S could end up excluding themselves from this important and permanent shopper behaviour."
Shoppercentric
"Whilst profits are down, the strategy of increasing food stores and decreasing clothing makes sense given the clear position food has in shoppers' repertoires," said Shoppercentric MD Danielle Pinnington.
"As a premium food retailer M&S needs to ensure they draw on their experience during the recession to keep the offer relevant and appealing to shoppers who are starting to feel the pinch in their wallets."
Shore Capital
The investment group said the M&S results were ahead of its forecasts and following on from the new plans outlined by Rowe in the last year, it's clear the group is "pressing on with implementation." It described M&S's performance as "sobering" and said it was a "medium to long-term change story with no quick fixes,"
"At first base Mr. Rowe has done much, with points for encouragement therein," said Shore Capital.
"Taking into account management's headline guidance for FY2018, our indicative feel for the stock is to retain a HOLD stance, whereas we had harboured a hope to be more positive, in truth."