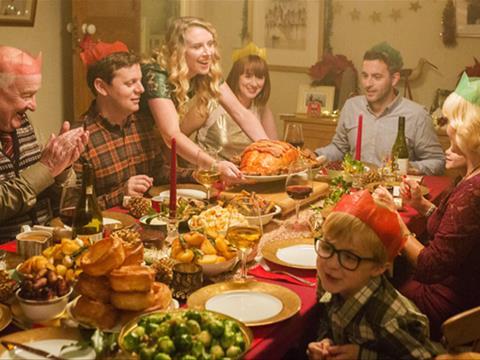 The latest grocery market share figures from Kantar Worldpanel and Nielsen suggest UK consumers shrugged off any worries about the wider economy to increase their grocery spend over the festive period.
Kantar Worldpanel found that the average household spent a record £1,054 on groceries over the three months including the Christmas period, representing an additional £1bn through the grocers' tills and a value sales increase of 3.8%.
Nielsen said it was "strong end to the year for grocery retailers" as shoppers spent almost £500m more on groceries this December than the last one.
Nielsen found that grocery spend in the four weeks ending 30 December hit £10.5bn, a 3.7% year-on-year rise. Even excluding the discounters, sales were up 2.3%, while across the whole of 2017, grocery sales rose 3.2% on 2016.
"The supermarkets did well this Christmas, particularly amid fierce price competition and shoppers starting to feel the squeeze on disposable incomes. It was in stark contrast to many high street retailers who saw less footfall and sales declines," said Mike Watkins, Nielsen's UK head of retailer insight. "The timing of Christmas day certainly helped as it was conducive to last minute indulgences and fresh foods, however, some supermarkets used private-label and branded promotions, such as money-off vouchers, to drive Christmas footfall."
Tesco (TSCO) was the fastest growing of the big four supermarkets, according to both sets of market share data.
Kantar Worldpanel found Tesco's sales rose 3.1% during the pastd 12 weeks, the fastest sales growth the retailer has seen since June helped by a 6.4% increase in sales of standard Tesco own label.
Meanwhile, Asda's sales grew by 2.2%, helped by a strong online performance, Morrisons increased sales by 2.1% and Sainsbury's (SBRY) managed to increase sales across its convenience stores, larger supermarkets and online deliveries, growing overall by 2.0
Nielsen also found that among the Big Four, Tesco had the most improved performance over the final 12 weeks of the year, with sales up 3.4% year-on-year. Asda saw the second fastest growth amongst the big four at 2.1%, followed by Morrisons at 1.7% and Sainsbury's at 1.2%.
Kantar said Aldi and Lidl were level pegging in the battle to be the nation's fastest growing supermarket, both growing sales by 16.8% year on year.
Kantar's Fraser McKevitt explained: "In some ways Christmas is a tricky time for the discounters: they tend to lose a little market share compared to earlier in the year as many shoppers return to the more traditional supermarkets in search of old favourites. Rising to the challenge, Aldi and Lidl collectively managed to attract nearly one million additional households during the past three months."
Nielsen found that Lidl was the fastest growing grocer at 15.7% followed by Aldi at 12.8%. Outside of the discounters, Iceland (up 3.9% year-on-year) and Marks & Spencer (3.6%) had the best grocery sales growth figures in the final quarter.
Nielsen estimates that the grocery market will continue to grow at around 3% for the first part of the year but Watkins says that "shopping behaviour could still be impacted by inflation shocks around oil prices and the uncertainty around the Brexit negotiations affecting shopper sentiment".
Kantar said online supermarket sales enjoyed their biggest ever Christmas: up 4.9% year on year. Ocado comfortably outpaced the online market, increasing sales by 8.4% to account for 1.3% of the grocery market.
Grocery inflation now stands at 3.7% for the 12 week period ending 31 December 2017. Prices have been rising since the 12 weeks to 1 January 2017, following a period of grocery price deflation which ran for 30 consecutive periods from September 2014 to December 2016.
Meanwhile, the BRC KPMG monthly Retail Sales Monitor found that in December, UK retail sales increased by 0.6% on a like-for-like basis from December 2016, when they had increased 1.0% from the preceding year.
On a total basis, sales rose 1.4% in December, against a growth of 1.7% in December 2016.
Over the three months to December 2017, in-store sales of non-food items declined 3.7% on a total basis and 4.4% on a like-for-like basis, the deepest since the monitor began in December 2012.
Food sales increased 2.6% on a like-for-like basis over the three month period and 4.2% on a total basis. This is the highest since June and remains above the 12-month total average growth of 3.4%.
Helen Dickinson, chief executive of the British Retail Consortium, commented: "There was both light and dark in this year's Christmas trading period. Growth in spending was in line with the, albeit modest, average for the year. However, the divergence between growth in sales of food and non-food has never been so stark.
"With inflation outpacing income growth, shoppers continued to see more of their spending power absorbed by essential items, including food, leaving less left over for buying Christmas gifts. That made this year's festive period all the more nail-biting for non-food retailers, many of whom offered deep discounts in the last weeks before Christmas in the hope of something to celebrate at the end of a year, which has seen, on average, zero growth in non-food sales.
Joanne Denney-Finch, chief executive, IGD added: "Food and grocery sales enjoyed another record breaking week in the run up to Christmas Day and the last time we saw a noticeably stronger year-on-year uplift in December was six years ago. This rounds off a steady and consistent year for the sector, despite growth coming mainly from inflation rather than volume increases.