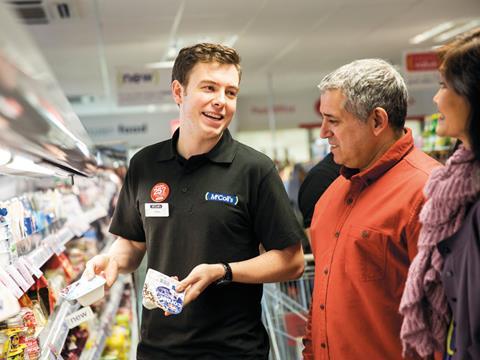 McColl's CEO Jonathan Miller insists it has finally put its woes relating to the collapse of Palmer & Harvey behind it, despite this week issuing a second profit warning in four months.

The convenience retailer said on Monday it expected adjusted full year EBITDA to be £35m instead of the £44m it forecast in July.

P&H, which had supplied about 700 McColl's stores, collapsed in November 2017. The decision by McColl's to move to a new Morrisons supply deal in 2018 was one of the key factors in finally pushing the wholesaler over the edge.

McColl's this week reiterated that since then it had experienced significant supply chain disruption, resulting in the need to accelerate the rollout of the Morrisons contract to 1,300 stores. This created "significant challenges and severely disrupted plans for the launch of Safeway".

It added that while the transition was now complete, "we are continuing to experience a number of challenges".

Although total revenue was up 8.3% for the full year to 25 November, reflecting the annualisation of the purchase of 300 Co-op stores in 2017, annual like-for-like sales slumped 1.4%, despite an improvement in sales in the fourth quarter. Total sales for the most recent period fell 0.5%, though like-for-likes improved to be flat against 2017's figures.

Miller declined to discuss the challenges with the Morrisons supply, though the results have led to speculation over how well that relationship is performing, despite McColls securing far better terms than its previous arrangement.

"You have to question whether it's working for either party," said a wholesale source. "All the growth is coming from tobacco. And there's no money for Morrisons in delivering tobacco. Morrisons were doing it on the value of the incremental turnover and growth.

Suppliers are saying 'why would we be paying for that growth when we're already giving McColl's a sum of money directly?'.

Others questioned the success of the Safeway own label brand, developed by Morrisons, which McColl's has been selling exclusively this year. That period of exclusively runs out next month, though Morrisons has not yet said whether any other retailers on the UK mainland will be taking the brand.

"We remain delighted with the product quality of the Safeway brand," Miller told The Grocer, adding that he was not concerned about losing the sole rights to sell it.

"Basically we have spent the last year focused on logistics rather than retail," he said. This had prevented it from putting in place the planned improvements to the business but it was now able to do this and Miller added he was now confident it could return to the growth trajectory it was on prior to P&H's administration.

"2018 has been a very difficult year for the business, marked by unprecedented supply chain disruption and ongoing challenges," he said.

"Important to our future success will be continuing to develop our partnership with Morrisons, alongside our plans to enhance our neighbourhood convenience offer by improving the quality of our estate and our overall customer experience."

During the year, the chain completed 59 convenience store refreshes, and acquired another 11 sites, while 66 under-performing stores were "removed".