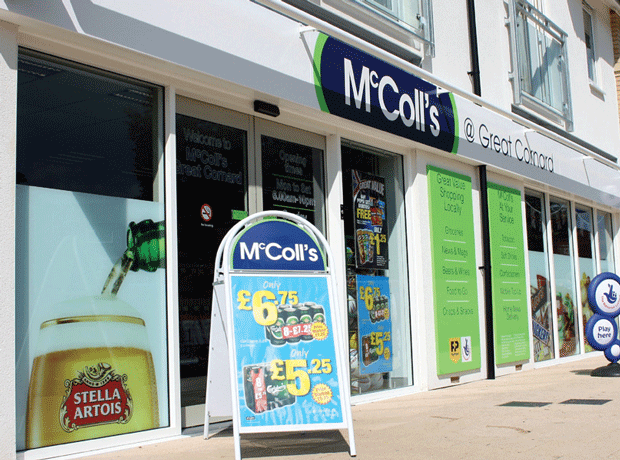 A year has proved a long, painful period for McColl's (MCLS) investors, who have seen the value of their shares drop by more than 75% after another damaging profit warning this week.
McColl's was riding high in November last year as the successful integration of 300 Co-op stores pushed sales past $1bn and drove its shares to an all-time high of 290p. However, the collapse of supplier Palmer & Harvey has since taken a heavy toll on the convenience business. McColl's issued its first profit warning of the year in July amid a slump in first-half profits after struggling to compensate for the demise of P&H, which supplied more than half its stores with groceries and tobacco.
This week the situation went from bad to worse. A second profit warning followed as it forecast core earnings of £35m for the year ending 25 November – a marked downgrade from the previous guidance of £44m. Sales did improve in the fourth quarter, but annual like-for-like sales slumped 1.4% for the year. McColl's also warned the new financial year would see "no more than a modest improvement" despite the current year's disappointing bottom-line performance
McColl's once more pointed to the "unprecedented supply chain disruption" from the P&H collapse. The retailer had to accelerate the rollout of Morrisons products to 1,300 stores, which it said created "significant challenges and severely disrupted plans for the launch of Safeway".
However, GlobalData's Patrick O'Brien pointed out it was just three months ago McColl's was reassuring the market that the accelerated rollout of Morrisons' products had been completed and would bring an end to the disruption it had faced. "Now it says that it is experiencing a number of challenges related to the transition," he noted. "The profit warning is very damaging to McColl's reputation"
AJ Bell's Russ Mould added that the "incredibly competitive" grocery landscape meant "any slip-up can have disastrous consequences and put a business back both financially and strategically, and that's exactly where McColl's sits today".
He also suggested its full-year dividend was likely to be cut, while broker Liberum predicted the investor pay-out will drop from 10.3p per share to 8p and cut its price target for the stock from 150p to 100p.
McColl's shares had slumped to an all-time low of 67p by Thursday lunchtime, almost halving since the same time last week.
The shares hit a high of 290p just over a year ago.