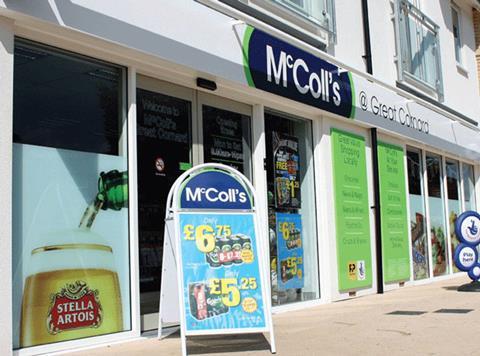 McColl's Retail Group (MCLS) has said that the continued blurring of the lines between convenience and food to go has helped drive soaring annual profits at the refocused business.
As McColl's announced a 67% rise in pre-tax profits to £21.1m, outgoing chief executive James Lancaster told The Grocer the group saw opportunities to further boost its food to go operations after focussing on increasing grocer sales in recent years. "We are looking at using other people's brands and franchise experience and also developing our own," he said.
Dave Thomas, chief operating officer, said that after opening a Subway in Tamworth, Staffordshire, last October, the company had signed another four deals to open Subways within stores and it was in discussions about a fifth.
"It really depends on the success of those as where it goes from there…we are blurring the lines between convenience and food to go. Times will tell whether it becomes stronger than convenience – it's the consumer's choice as to what they want," said Thomas.
The company's food to go offer was "enhanced" in 148 stores during the year to 29 November 2015.
Lancaster said: "Of course we will continue to offer our customers milk, baked beans, newspapers and other everyday items, but we will also provide a great range of take away food and drinks throughout the day – from morning coffees to late night hot snacks.
"We are putting a lot of effort behind the all-important people side of driving food-to-go sales. We are also investing in the necessary equipment. Through 2015, we rolled out 33 large format food-to-go modules across our stores and 115 smaller modules which represents a big step forward for the group.
"We are getting good growth from our food-to-go business – sales have significantly increased throughout the year - and we will continue to make this a key focus of our business into the future."
Overall pre-tax profit climbed 67% from £12.6m to £21.1m on total revenue up 3.1% from £922.4m to £932.2m. Operating profit increased from £22m to £23.6m.
Full-year like for like sales fell 1.9% across the entire estate by just 0.6% - "quite good in the current climate," Lancaster said – at the premium convenience stores and food and wine outlets, compared with 4% down at standard convenience stores and news agents.
Jonathan Miller, finance director, told The Grocer, the figures endorsed the strategy of converting form newsagents to premium convenience stores.
Like-for-like sales across the entire estate fell 1.8% in the 13 weeks to 28 February, in line with the previous quarter.
Premium convenience and converted food and wine stores continued to show stronger performance – down 1.1% with newsagents and standard convenience stores off 3.1%. Like-for-like sales in 2014/15 conversion and acquisitions that had traded for 12 months were ahead 0.4%.
Lancaster added that since the year end McColl's had bought 12 convenience stores and converted seven to food and wine. The financial year saw the group acquire 60 new c-store and complete 45 food and wine conversions. Alcohol had been introduced to 100 newsagents.
"We now have 911 convenience stores [893 at the year end] and we're well on track to achieve our target of 1,000 by the end of 2016….50% more than we operated just four years ago. There is not much doubt that we will hit that target," he said.
"In a challenging market we have grown sales and improved profits, at the same time we continue to deliver on our strategy of evolving our store portfolio…
"Additionally, we will extend and expand the range of products and services we provide to neighbourhoods across the country, at the most convenient times."
The company acquire 72 new post offices last year to take the total to 520 within its outlets – more than the Post Office runs.
Ninety-seven newsagents are currently for sale to generate extra fund to reinvest in buying and enhancing convenience stores as an ongoing part of its neighbourhood convenience strategy.
Numis said the group continued to reinforce its credentials in top-up shopping, food to go and neighbourhood services.
"We think these initiatives should continue to insulate profitability from the significant negative external pressures of price deflation, volume declines in certain key categories and adverse wage legislation," wrote analysts Matthew Taylor and Andrew Wade.