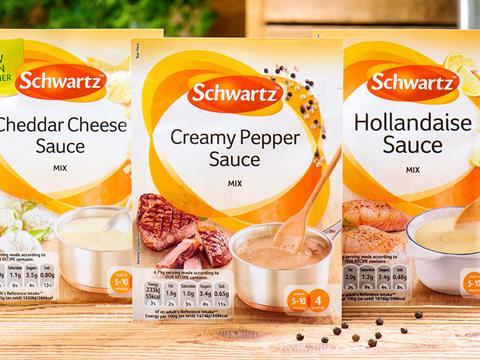 Schwartz spices owner McCormick has reported a 35% drop in statutory profits in its UK operating company as higher costs, the weakening pound and one-off costs hit earnings.

The US food group, which unsuccessfully attempted to buy Premier Foods last year and this year snapped up Reckitt Benckiser's food division, saw UK sales edge up 1.7% to £240m in the year to 30 November 2016. Operating profits at McCormick (UK) Ltd rose by 4.5% to £15.6m driven by productivity improvements, but pre-tax profits fell 12.1% to £11.1m as it incurred interest charges of £3.7m and an investment impairment of £2m.

The one-off investment writedown related to the withdrawal from the consumer market of its Turkish joint venture during the year. Reported profits dropped by 35% to £4.4m from £6.7m as its tax payment increased from £6m to £6.7m.

McCormick said: "Increased commodity costs across a number of raw materials contributed to higher costs during the year and this was exacerbated further by the impact of negative currency movements."

However, it added its UK industrial division "had a very strong year" with growth across key customers. The accounts stated: "The company is well placed going into the new financial year with continued focus on maximising efficiencies across the whole business and driving growth of the branded portfolio."

A total of £158m of its annual revenues were sold into the UK - a rise of 28.2%. However, European sales dropped by over 32% in the year from £98.5m to £66.6m.

Some £229.4m of its annual sales originated in the UK, with the rest of the world accounting for £10.6m.

McCormick was looking to expand the size and breadth of its UK business in March last year with a £1.5bn approach for Premier Foods that was rejected.

The US group instead acquired Reckitt Benckiser's food division for $4.2bn in July 2017.

The business, which includes French's mustard and Frank's RedHot sauce, is primarily focussed on the North American market. The deal included the UK operating company The RT French's Food Co, which had UK revenues of £7.7m in the year to 31 December 2015.