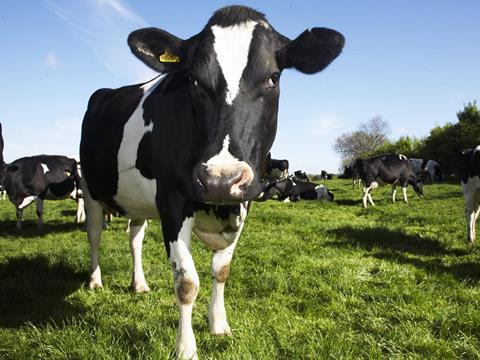 Dairy processor Meadow Foods saw its sales drop by almost 40% last year as the plunging price of milk hit revenues in the run up to securing US private equity backing.

Group revenues at the milk and dairy products supplier dropped by 39.2% to £228.3m in the year to 31 March 2016, down from £376.5m in the previous year.

The results mark a continuation of the sales decline seen last year, when Meadow revenues fell back by almost 25% from £420m in the 2013/14 financial year.

Meadow blamed falling milk prices, which started dropping in 2014 and accelerated through 2015, due to excess supply throughout Europe and falling demand for milk products, particularly in China.

Despite the plunge in value sales, Meadow said customer demand "remained firm" with increased volumes in the year, albeit at lower prices and margins.

A 42.5% fall in the cost of sales meant gross profit fell just 8.6% to £31.2m and pre-tax profits fell 15.5% to £12m.
Simon Chantler, executive chairman of Meadow Foods, commented: "We are pleased to report some positive results in what has been a very challenging marketplace.
"The collapse in milk prices, and the subsequent drop in the value of dairy product sales, affected company profits however we were well placed to manage the impact due to our programme of investment, secure supply base and ongoing implementation of lean manufacturing principals."
The difficult environment for UK dairy players did not deter US private equity player Paine & Partners taking an undisclosed stake in Meadow from the co-founding Chantler and Pickering families in September 2016.
At the time Dexter Paine, chairman, CEO and a founding partner of Paine & Partners, said the investment would allow Meadow to fund organic growth and strategic acquisitions.
There are emerging signs the trading environment is becoming less hostile for UK dairy players as the shelf price of milk has begun to rise in recent months. The latest Grocer Price Index found dairy prices jumped 4.1% in the month to 1 January compared to the previous month.
In the accounts the group pledged a further £4.8m in capital expenditure in the current financial year, £3m of which was fully committed at year-end.
This investment comes on top of a £3m project to double the processing capacity at Peterborough plant and a further £2.3m upgrading the effluent treatment plant in Chester in the past financial year.
Founded in 1992, Meadow Foods employs more than 275 staff at its three sites across the UK and is supplied by a network of over 600 farmers.
Separately, Meadow has appointed John ("Jack") Anton, James Lambert and Lindsey Pownall to its board of directors.
Anton currently serves as an operating director of Paine & Partners, and was previously was chairman, CEO and co-owner of Ghiradelli Chocolate Company. Lambert is currently the chairman of a number of companies including Burton's Biscuit Co. and Wagg Foods Limited, and was previously founder, chairman and CEO of R&R Ice Cream. Pownall most recently served as CEO of Samworth Brothers and is currently a non-executive director of Tesco.