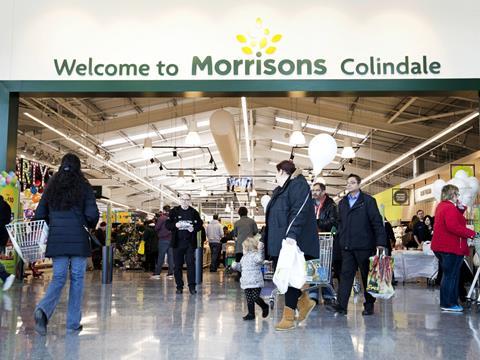 Morrisons has today announced strong preliminary results. Here's how leading City and retail analysts reacted:
Danielle Pinnington, Managing Director at shopper research agency, Shoppercentric said, "It seems Morrisons are reaping the benefits of putting the focus back on customers. As our own research showed at the beginning of the year, shoppers are looking for those retailers who deliver positive experiences instore. That means quality and service."
John Ibbotson, director of the retail consultancy Retail Vision believes "Morrisons has been transformed over the past two years from a rudderless ship to a modern-day grocer with a growing sense of direction". He said, "Morrisons has regained shoppers' trust and, crucially, is luring them back from the discounters. Its shareholders must be thinking that David Potts has got the Midas touch.
"In reality, there was no magic involved. Potts has simply returned Morrisons to its roots of low prices, good value and fresh food. It's a back-to-basics approach that has worked impeccably.
"It's encouraging that Potts accepts that the Morrisons turnaround has only just begun, as there is indeed a very long way to go.
"There's also the small matter of food inflation, although the falling Pound may hurt Morrisons less than its rivals, as a high proportion of its food is produced in the UK.
"However, cost cutting and the faster supply chain have raised efficiency significantly, while the "capital light" wholesale deal with Amazon is a low-risk way to make greater inroads into the online grocery market.
"The deal to install Amazon lockers in 400 stores will also be a particularly cost-effective way to increase customer traffic flow.
"Potts has a plan and for now it appears to be working seamlessly."
Paul Thomas, senior consultant at Retail Remedy agreed that "future growth looks certain following deals with Ocado and Amazon."
He said, "Recognising that the year ahead will post cost challenges from Brexit and National Living Wage, Morrisons proactivity in exploring and adding revenue streams outside of existing channels and ranges is commendable. Ocado and Amazon are very useful strings to add to the Morrison's bow and adding Nutmeg womenswear is a no-brainer even with non-food sales stagnating in the most recent Neilsen data."
Catherine Shuttleworth, CEO at shopper and retail marketing agency Savvy said, "These figures show the importance of a strong Christmas trading period. As inflationary pressure mounts this year, they will have some strategic value in their vertically integrated operating model where it appears there are further savings potential. This and a mixture of continued investment in their capital-lite project, should put them in a strong place to build from. Their market continues to be a tough place, but their straightforward approach appears to be chiming with customers."
Shore Capital analysts Clive Black and Darren Shirley said, "The company's Founder and Life President, the late Sir Ken Morrison would, we believe, have been very happy to observe the ongoing progress that CEO David Potts CBE is delivering to his creation.
"It is difficult to our minds to identify a misplaced foot by Mr. Potts since he took the reins of a somewhat problem Morrisons in spring 2015. The transformation of the business has been remarkable, a joy to chronicle in fact, Mr. Potts is displaying exemplary leadership skills but also, it should be said, a high level of entrepreneurship.
"Management believes that it can sustain its 'Fix, Rebuild and Grow' programme with tight control of capital expenditure, which is expected to remain within a range of £450-500m in cash terms over the next couple of years."
"The group's vertical integration also features in the broadening of activities through the wholesale supply agreement with Amazon and the forecourt convenience channel in conjunction with the likes of Rontec (a supply relationship about to be expanded to 50 stores shortly) and Palmer & Harvey, which embraces the rebirth of the Safeway label."
Analysts from Jefferies believe that the results "confirm strong progress in the new leadership team's first full year".
They said, "We are in the early stages of new growth initiatives, so we expect more details later in 2017. It looks like these may include some selective new store openings from 18/19, even if we expect the £400m to £450m guide to hold.
"We believe evidence of a more conservative UK consumer behaviour is starting to emerge, and this carries some negative implications for overall sector outlook (and investor sentiment). What is encouraging for MRW is the ability to cycle in style the turn in trading performance of late 2015, as well as to withstand the challenge of a stabilising Asda."
Analysts from Bernstein said, "Guidance into next year starts on a cautious note outlining 'uncertainties ahead' in food prices and increasing pension, depreciation and rates. However they remain confident of delivering on the £50-100m of incremental PBT. Management guide to further net debt reduction in 2017 to below £1bn, for us, the question remains as to the use of excess cash going forward.
"Overall the results are solid, slightly beating expectations that had already been guided up in January, but we don't see any material new positive surprises."