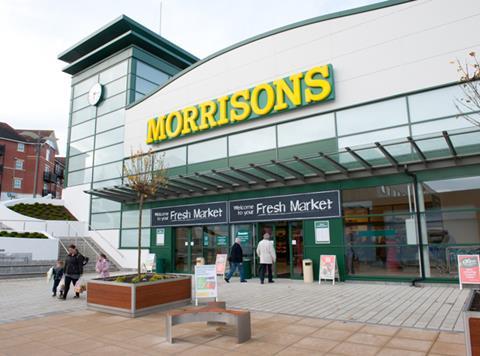 'Only time will tell' is a well-worn phrase used by journalists who can't think of a better way to finish their features, but today it kind of sums up Morrisons' deep price-cutting strategy.
Time will surely tell whether the strategy will pay off and set Morrisons back on the path to success. And if it doesn't work, where will that leave the current management and even the future of the business as a whole?
There just wasn't much to go on from today's interim results for the six months to 3 August. We were expecting profits to be down after Morrisons warned these would be halved for the current financial year because of its £300m investment in price and ranging – and it has managed to hit this target (if you can call it that) already, with underlying profits before tax down 51% to £181m.
We were expecting like-for-like sales to be down and they were – 7.4% to be precise. So why are many industry watchers prepared to suggest that Morrisons is beginning to see the light at the end of the tunnel?
It is largely due to numbers that weren't published today but over the last month or so. The last couple of months' worth of market share figures from Kantar Worldpanel suggest that Morrisons' sales declines are starting to bottom out. This, along with today's news that the rate of decline in the number of items per basket at Morrisons has also slowed in the last quarter, suggests there may be something to the theory.
The problem is that any recovery is fragile at best or, depending how you look at it, simply non-existent. Morrisons shoppers still put 3.2% fewer items in their baskets per shop than they did a year ago and this year the supermarket has slashed the prices on over 1,300 everyday items.
The deflationary impact of the price cuts means that for the strategy to be a success Morrisons has to sell much more of the lower-priced goods while at best holding sales steady of the lines it hasn't cut – simply slowing down the decline isn't good enough.
Chief executive Dalton Philips says that six months into a three-year plan is too early to judge its success. He will certainly be hoping there are more substantial and sustainable improvements in trading over the next six months, as it's hard to see shareholders or incoming chairman Andrew Higginson waiting another two years for the tide turn. As we say in journalism, only time will tell…