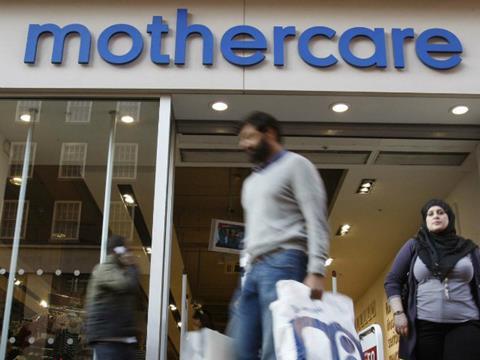 Top story
Baby and child retail specialist Mothercare has announced a further slump in a UK sales in its fourth quarter as it battles to turn around its struggling business.
UK like-for-like sales dropped 8.8% during the quarter to 30 March, though this represented an improvement on the prior two quarters as UK like-for-like sales fell 11.1% in its first half and 10.8% for the year.
The slightly improved UK LFL performance was driven by clearance stock volumes in closure stores which diluted gross margins but cleared all inventory in these stores. However, the clearance activity has significantly impacted online full price sales as volumes switched to closing stores
Total UK sales 15.4% in the quarter as it contracted its UK retail estate by 21.2% year on year in square footage terms.
Mothercare said it had successfully completed its UK store closure programme ahead of schedule, closing 40 stores in the past 3 months and now has a UK estate of 80 stores at 3rd April 2019, down from 137 in the prior year.
Total group sales were down 13.9% in the quarter, down 14.6% for the year.
International retail sales were down 4.9% in constant currency in the quarter and down 4.5% in actual currency
Retail sales in core (non-UK) markets fell 5.7% in constant currency driven primarily by economic and trading challenges in the Middle East. Growth in the quarter was observed in core markets of Russia, India and Indonesia
Mothercare said it has concluded the changes necessary to create a leaner organisational structure after the sale of the Early Learning Centre to The Entertainer for £13.5m last month.
CEO Mark Newton-Jones commented: "We have continued to make significant progress in our final quarter as we continue our strategic transformation to deliver a sustainable and profitable future for Mothercare.
"The UK store closure programme has been completed ahead of schedule and we now have 80 stores in operation, down from 137 stores a year ago. Whilst this has been a difficult but necessary process, to right-size the UK, it has meant that we have had to say goodbye to many loyal and longstanding colleagues. Their approach and professionalism have been outstanding right until the last day of operation for which we thank them sincerely.
"We continue to manage our cash tightly and we have further reduced the levels of debt as part of our aspiration to be bank debt free by the end of 2019. Reduction in debt has also been aided by the sale of Early Learning Centre, which was another strategic milestone for Mothercare and gives us a new UK concession arrangement for our toy category with The Entertainer, who will bring our customers a broader and stronger product offer.
"The disruption we have seen from both the organisational changes and the UK store closures is now largely behind us. We expect a continued impact on our business given the volume of clearance stock we have sold in recent months. Against this background, we remain on track to deliver on our full year expectations."
"Looking ahead, we expect market conditions in the UK and in some international markets to remain challenging. We enter the new financial year in a more robust position as a restructured business fit for the future and with reduced levels of debt. We have a significantly smaller UK store estate and our International operations remain cash generative. We look forward to the new financial year and to delivering the next phase of our strategic transformation plan."
Mothercare said it is on track to deliver at least £19m of annualised cost savings and full-year performance guidance remains unchanged.
Mothercare shares are flat this morning at 22.3p.
Morning update
It's another quiet morning in the City for grocery stocks after another dramatic night in parliament.
Last night MPs voted for the Cooper-Letwin bill, which aims to reduce the potential for a 'no deal' Brexit, by just a single vote. The bill, which will require the Prime Minister to ask the EU of a Brexit extension if no exit deal is agreed in parliament, will now go to the House of Lords for debate.
On the markets this morning, the FTSE 100 has opened down sharply 0.6% to 7,372.4pts amid the Brexit uncertainty.
Risers include Glanbia (GLB), up 2.6% to €17.57, Nichols (NICL), up 2.3% to 1,650p, Finsbury Food Group (FIF), up 2% to 60p and McBride (MCB), up 1.8% to 101.6p.
Fallers so far today include DS Smith (SMDS), down 2.8% to 343.8p, McColl's (MCLS), down 2.5% to 81.9p and Sainsbury's (SBRY), down 0.8% to 238.7p.
Yesterday in the City
The FTSE 100 hit a six month closing high of 7,418.3pts yesterday after rising a further 0.4% yesterday as the pound slipped in value.
The supermarkets had a strong day after the BRC found food price inflation has risen to a multi-year high yesterday and the release of the latest grocery market share figures on Tuesday.
Sainsbury's (SBRY), the biggest loser of Tuesday's market share figures as it slipped behind Asda to third place, rose 2.4% to 240.6p, while Tesco (TSCO) was up 1.6% to 236.6p and Morrisons (MRW) rose 1.4% to 230p.
Further retailers on the rise included McColl's (MCLS), up 5.7% to 84p, B&M European Value Retail (BME), up 1.9% to 387.7p, SSP Group (SSPG), up 1.8% to 712.5p and WH Smith (SMWH), up 1.6% to 2,154p.
Other risers included Greencore (GNC), up 2.9% to 204.4p, Just Eat (JE), up 3% to 787.6p, Britvic (BVIC), up 1.2% to 230p and Stock Spirits (STCK), up 4.8% to 230p.
Weaker cigarette sales in the US hit the FTSE 100 tobacco giants, with Imperial Brands (IMB) slumping 4.1% to 2,519.5p yesterday, while British American Tobacco (BATS) dropped 1.9% to 3,119p.
Other fallers included Coca-Cola HBC (CCH), down 2.5% to 2,571p, Premier Foods (PFD), down 2.8% to 34.9p, Bakkavor (BAKK), down 1.9% to 3,119p and Diageo (DGE), down 1.3% to 3,100.5p.