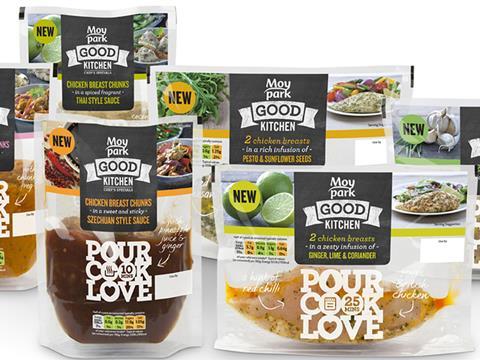 Moy Park has increased revenues in the second quarter, but profits slumped 80% at its beleaguered Brazilian parent company JBS, which put the Northern Irish poultry processor up for sale earlier this year to raise money to pay off growing debts.
Sales at Moy Park rose 7.4% to £391.6m in the three months to the end of June, driven by underlying volume growth of 2% and a favourable exchange rate movement.
EBITDA also climbed 1.2% to £33.9m thanks to the stronger operational performance and a tight control over costs. JBS said its European arm had continued its "solid start" to the year in a "challenging" market.
The Brazilian meat packer announced in June that it was looking for a buyer for Moy Park as part of a wider sell-off, including assets in South America and the US, to raise a further R$6bn (£1.5bn). It will use the money to reduce the company's net debt and financial leverage, which grew 5.4% to stand at more than R$50bn (£12.2bn) at the end of the second quarter.
JBS said in today's earnings update that process to sell Moy Park was "still in progress and in an early stage".
The multinational has come under severe pressure this year after being caught bribing Brazilian government officials in relation to food inspections and the quality of the meat it processed. JBS paid a R10.3bn (£2.5bn) fine in relation to the scandal, which almost toppled Brazilian president Michel Temer, and its owners Joesley and Wesley Batista resigned their board positions in late May.
Revenues fell 4.6% at the group in the second quarter to R$41.7bn (£10.1bn) as a result of the 9.2% appreciation of the Brazilian real against the dollar and a weak performance in some of its domestic markets.
Net income slumped 80% in the period to R$309.8m (£75.3m) because of a spike in net financial expenses and its struggles in South America.
However, EBITDA increased 30% to R$3.8bn (£920.6m) as the group improved margins from 6.6% to 9% and good results in North America, Australia and Europe partly offset the declines at home.
"Our operations performed very well during the second quarter of 2017. Seara posted an EBITDA improvement when compared with the first quarter, which shows that this business unit is turning back to historical levels in terms of operating results," global CEO Wesley Batista said.
"Beef operations in Brazil also registered a recovery in EBITDA in relation to the first quarter of this year, in spite of a more challenging scenario during the period. Our beef operations in the US, which include Australia and Canada, performed quite positively, clearly indicating an excellent perspective for upcoming periods.
"Poultry operations in North America (Pilgrim's) registered an excellent performance, with an EBITDA margin of 18.7%. Finally, our pork operations in the US and Moy Park in Europe continued to deliver solid and consistent results."