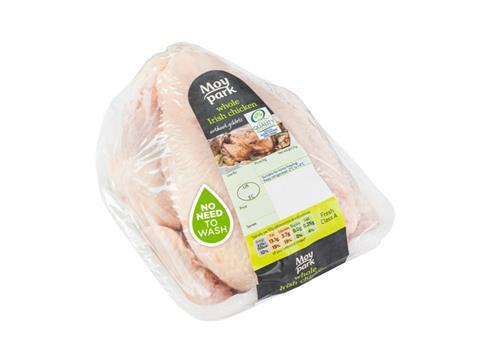 Foreign exchange movements, the impact of bird flu outbreaks, commodity price deflation and lower international sales contributed to a 1% fall in revenues for Moy Park for the 13 weeks to 26 September.
Third quarter results for the poultry processor revealed a £3.4m drop in sales to £350.7m, despite good volume growth, while EBITDA was also down 12.7% to £21.3m and pre-tax profits slipped 94.6% to £200,000.
However, on an underlying level - before corporate charges from the parent company, exceptional items and interest on the bond Moy Park issued during the second quarter - EBITDA grew 1.9% to £26.8m and pre-tax profits were up 11.8% to £10.4m.
The third quarter had seen Moy Park produce a positive "performance in a challenging market", said CEO Janet McCollum. "Our continued commitment to our customers and consumers, ensuring delivery of the highest quality product while maintaining our focus on controlling costs, has enabled us to further grow our revenue base and improve margins."
The business had managed to "maintain our leverage level while continuing to invest in our infrastructure to support future growth", she added. The processor's results statement said management were "pleased with the progress being made in the business", and remained confident in the long-term success and development of the company, particularly following the completion in September of a £944.7m deal to sell the business to Brazilian meat giant JBS.
"We continue to build our business based on the highest quality standards of animal husbandry, production and processing and aim to meet and exceed the ever changing requirements of our customers and consumers," it added.