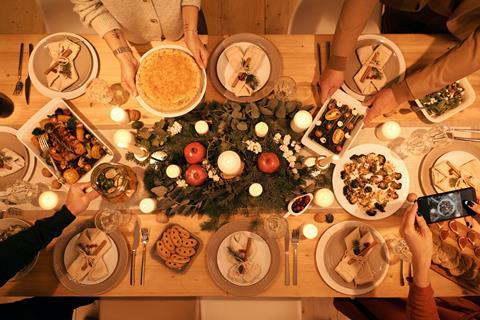 Tesco and the discounters have emerged as the winners in the battle for Christmas sales, according to industry data.
Total grocery sales hit £11.7bn in December, according to Kantar, with sales in the four weeks to 27 December just 0.2% behind a year ago, when entertainment of family and friends was restricted by lockdowns.
The four-week till roll sales figures seen by The Grocer, show Tesco continued to outperform its peers and was the only big four player in growth in the crucial festive period.
Tesco's four-week sales were up 1.3% to £3.2bn to represent 28% of the total market, while its rivals lost share, with Sainsbury's and Asda down 0.4% and Morrisons falling 3.3% year on year.
All four remain in strong two-year growth, but Tesco is the only supermarket in double-digit growth over the period, at 12.7%, compared with 8.7% at Sainsbury's, 7.7% at Morrisons and 6.4% at Asda.
The festive period has also seen a return to discounters growing ahead of the wider market, with Aldi up 2.5% in December and Lidl the fastest growing physical retailer at 2.6%.
Waitrose also saw 2% growth in December, while Ocado was up 8.4% and was the only grocery player in 12-week growth despite industry-wide online sales falling by 3.7% in December, as in-store visits hit their highest level since March 2020 amid growing consumer confidence.
Sales of premium own-brand products broke records with £627m spent on luxury lines, while mince pie sales rose 7% on 2020 to reach £62m.
The 12-week market data showed grocery sales down 2.9% compared with 2020, pointing to an improvement in trading for the sector over the Christmas period.
Fraser McKevitt, head of retail and consumer insight at Kantar, said the "lofty" spend figure in December suggested that while there were no formal rules in place across the UK this year, many people celebrated at home again due to Omicron.
"We can really see just how much spending accelerated in December compared with earlier in the year by looking at the average trend during March to November when sales were down by 2.5% against 2020," McKevitt said.
He added that the run-rate of 11% in the four weeks of December against 2019 was a "definite acceleration" against the equivalent 7% figure in October and November.
AJ Bell investment director Russ Mould added: "Money that might have been spent on eating out or drinking and socialising in pubs and bars instead looks to have found its way into the [supermarket] cash registers."
However, Kantar data also found that pure grocery sales slowed by 1.4% in December and by 3.9% in the 12-week period, with takehome alcohol sales down 3% on 2020, suggesting that general merchandise sales mitigated the tough year-on-year comparisons for food and drink sales.
Tesco, in particular, grew GM sales by 6.9% in the 12-week period and Waitrose by 14.9% while Morrisons and Sainsbury's saw non-food sales drop by 1% and 2.1%.
Sales were also supported by inflation rising to 3.5% in December up from 2.1% in November, which "softened any trading down behaviours," added McKevitt.
Shore Capital analyst Clive Black suggested Tesco's scale and "strong execution through the festive period" means it has "more capability to absorb cost pressure than many of its peers".
He added: "Aldi and Lidl, which have used marginal surplus well in their respective advancement in the UK, have not been especially light on fresh food availability, which leads us to believe that to guarantee product they will have been yielding further gross margin."
Tesco shares rose 0.9% to a new post-Covid high of 296.7p on the release of the data, while Ocado Retail's strong performance saw JV partner Marks & Spencer rise 4.7% to 249.7p and Ocado climb 3.2% to 1,605.5p.
Total Till Roll - GB Consumer Spend (source: Kantar)
12 weeks to 27 Dec 2020
12 weeks to 26 Dec 2021
% Change (year on year)
Change (vs 2 years ago)*
£m
%
£m
%
%
%
Total Grocers
32,685
100.0%
31,697
100.0%
-3.0%
8.0%
Total Multiples
32,135
98.3%
31,204
98.4%
-2.9%
8.0%
Tesco
8,916
27.3%
8,838
27.9%
-0.9%
10.1%
Sainsbury's
5,198
15.9%
4,968
15.7%
-4.4%
5.8%
Asda
4,686
14.3%
4,502
14.2%
-3.9%
3.5%
Morrisons
3,410
10.4%
3,188
10.1%
-6.5%
5.8%
Aldi
2,430
7.4%
2,431
7.7%
0.0%
6.3%
Co-op
1,957
6.0%
1,828
5.8%
-6.6%
2.6%
Lidl
1,990
6.1%
1,983
6.3%
-0.3%
14.8%
Waitrose
1,629
5.0%
1,606
5.1%
-1.4%
10.2%
Iceland
809
2.5%
760
2.4%
-6.1%
13.4%
Ocado
530
1.6%
544
1.7%
2.5%
39.9%
Other Multiples
579
1.8%
555
1.8%
-4.1%
15.0%
Symbols & Independents
551
1.7%
493
1.6%
-10.5%
5.0%