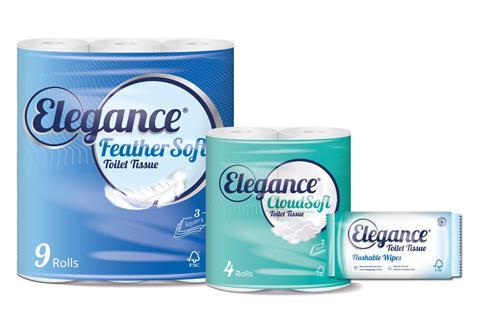 Paper products supplier Accrol has seen volumes grow 7.7%, driven by sales of the own label lines it makes for a wealth of well-known retailers.
In its latest annual results, dated to 30 April 2023, the business saw its volume share of the overall UK paper goods market grow to 21.5% from 19.5%, while revenues rocketed 52% to £241.9m. This was due in part to increased volume sales of higher-value products, as shoppers switched from brands to retailers' premium tier alternatives. There had also been "significant price inflation due to input costs", CEO Gareth Jenkins told The Grocer.
Accrol is the UK's leading independent tissue convertor – meaning it uses paper milled by third parties. It produces toilet paper, kitchen roll, wet wipes and facial tissues from fully automated sites in Leicester, Blackburn, Leyland and Flint.
Claiming a third of the private label market, Accrol supplies high street giants such as Tesco, Asda, Aldi, Lidl, Boots and Spar. It also makes a Lifebuoy product under licence from Unilever and owns a number of tertiary brands, including Elegance toilet tissue and Oceans, the fast-growing DTC brand that offers premium, eco-friendly paper goods.
In April 2021, Accrol acquired flushable wet wipes maker John Dale, which has a current run rate of about £10m. It had "provided Accrol with a well-invested platform and significant operational capacity", according to the supplier. Later this year will see the addition of new machinery to add £20m to revenue capacity.
"We have worked really hard and invested the best part of £25m over the last four years on ensuring that we've got the best possible products," said Jenkins. "What we've tried to do is ensure we've got the lowest possible cost base, so we can be give the best possible products at the lowest price to the retailer and then to the consumer."
Plans ahead include development of a paper mill, likely in mid-2025, with an initial revenue capacity of about £80m. It would provide around 50% of the paper converted each year by Accrol, Jenkins added.
Analsysts at Shore Capital forecast that "a highly accretive, self-funded paper mill" would "drive a further material increase in the group's margins".