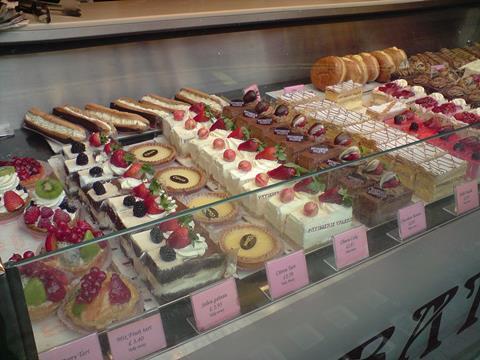 Top story
Last ditch talks to secure the future of café chain Patisserie Valerie (CAKE) are continuing despite going over a deadline set by lenders.
Investors hoping for clarity were left disappointed this morning as the café chain's listed holding company failed to shed light on the future of the troubled business.
Talks between the bakery chain and its creditors took place over the weekend to secure a funding lifeline.
A deadline from lender HSBC and Barclays expired on Friday to extend support for the chain led by veteran entrepreneur Luke Johnson.
"Patisserie Holdings announces today that, further to the announcement on 16 January, the company is still in discussions with its bankers to extend the standstill of its bank facilities beyond 18 January and will issue an update when those discussions have concluded," it said in a new update.
KPMG was last week appointed to review options, including planning for the future of Patisserie Holdings, after it emerged that accounting irregularities were "significantly worse than thought".
The bakery chain last week announced to the stock market that it found the misstatement in its accounts was "extensive" and involved "very significant manipulation".
It said that among other manipulations, this involved thousands of false entries into the company's ledgers.
Patisserie Valerie was plunged into crisis in October after a £40m accounting black hole was revealed, requiring a rescue package from Johnson.
The troubled firm has also appointed RSM to aid KPMG as auditors to help the business recover from the "devastating" effects of the fraud.
The company since upended its leadership team, recruiting Steve Francis as its new chief executive, as well as hiring a new interim chief financial officer, non-executive director, commercial director and production director.
Morning update
Blackwoods gin manufacturer Distil (DIS) has reported a surge in volumes in the third quarter on the back of increased marketing spend.
The spirits group, which also owns Redleg spiced rum and Blavod black vodka, reported a 29% jump in volume sales for the three months to 31 December 2018.
Sales rose on the back of a 53% rise in marketing investment, the group said in a trading update.
Distil reported a 36% rise in revenues, and 30% volume rise, for the first nine months of the year. The outlook for 2019 remains "positive", it added, and full-year growth is set to be in line with market expectations.
"Our brands continued to perform well in Q3, growing volume and value across all trade channels in a highly competitive market," said, Don Goulding, executive chairman of Distil.
"We increased marketing investment in promotional activity over the Christmas period to build stronger consumer awareness, trial and purchase of our key brands.
"Early reports from major customers indicate good year-on-year sales in the four weeks running up to Christmas, although consumers appeared to leave many purchases and celebrations until late in the month."
Takeaway delivery business Just Eat (JE.) has announced the shock exit of CEO Peter Plumb, to be replaced in the role by current CCO Peter Duffy.
The departure comes just 16 months after Plumb joined the business from Moneysupermarket.co.uk.
Just Eat also updated investors on trading, saying it expects to report full year 2018 orders of 221m, revenue of around £780m.
The FTSE 100 has already rebounded this morning, and is now up 0.1% to 6,977p.
Early risers this morning include PayPoint (PAY), up 4.8% to 880p, Hotel Chocolat Group (HOTC), up 2.8% to 272.5p, and McBride (MCB), up 2.5% to 138.6p.
Early fallers include Just Eat (JE.), down 2.9% to 639.6p, Tesco (TSCO), down 1.3% to 221.5p, and Morrisons (MRW), down 0.9% to 228.6p.
This week in the city
It is a fairly quiet start to the week in the City, as businesses and investors hope for greater clarity over Brexit.
On Tuesday, French supermarket giant Carrefour will reveal its full year results for 2018.
US consumer giant Johnson & Johnson will also reveal how it performed over the year in a trading update on the same day.
On Wednesday, WH Smith (SMWH) will be the latest high street retailer to reveal its performance, as it looks to try and match its positive outlook, when it announces its interim figures.
Wednesday will also see Wetherspoon's (JDW) founder Tim Martin take a break in Pro-Brexit tour of the UK to announce the pub chain's latest trading update.
US consumer healthcare group Kimberley Clark will reveal its annual results on Wednesday, with investors hoping for an update on plans to sell its toilet paper brands to raise funds.
Posh mixer maker Fevertree (FEVR) has dipped in the past six months following a stratospheric rise in value, and will be hoping to drive its price high again with positive trading new on Thursday.
It will be followed on Friday, by interim figures for Irn Bru maker AG Barr (BAG) will be hoping to continue its strong 2018 performance into the new year.
Consumer group Colgate-Palmolive will also announce its results for the full year on Friday.