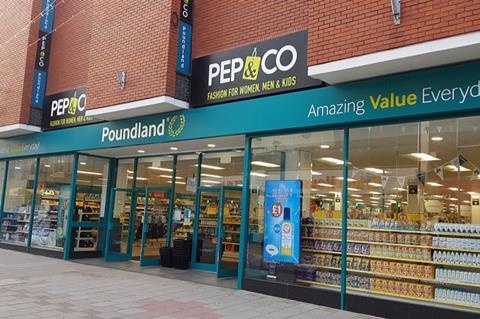 Poundland's performance was 'broadly flat' in quarter one, according to a trading update from parent company Pepkor Europe.

The variety discounter saw unaudited revenues rise 0.6% to €516m but continued to outperform the UK high street amid weak consumer confidence, the update for the quarter ended 29 December 2018 said.

The better-than-average performance continued to be driven primarily by the Pep&Co clothing outlets, which were rolled out in 300 Poundland stores last year. Poundland had continued to 'rationalise its store portfolio' while opening in 13 new sites formerly occupied by defunct competitor Poundworld.

It had also relocated into three larger stores, which were 'performing well and delivering strong returns'. The total number of stores stood at 882.

Pepkor Europe Group revenue rose 14.6% to €993m.

Poundland retail director Austin Cooke recently highlighted one of the larger new sites, in a former Next in Stoke-on-Trent, as an example of how the retailer may realign itself as more "department store-esque".

Earlier this month Poundland created a new business transformation team as it plans to reinvent its store proposition.

Cooke said in December that Poundland could also introduce more price points by re-positioning the name to mean that everything on sale was rounded to the nearest pound.

Poundland currently sells products for £2 and £5 in addition to the mainstay £1, while the Pep&Co departments are multi-price.