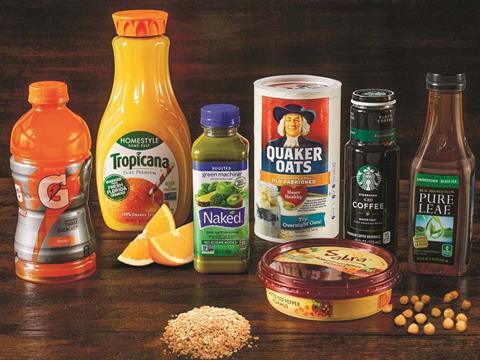 Sales at US snack and soft-drink giant PepsiCo (PEP) rose 4.3% in the first quarter of 2018, despite struggling soft drink sales.
The company behind Mountain Dew and Lays crisps battled against more health-conscious consumers to hit sales in the quarter of $12.5bn, up from $12bn in 2017.
The company's Frito-Lay brands boosted its top-line figures, recording a 3% growth in sales to $3.6bn for the quarter.
Soft drink sales however followed a current downward trend, with sales for the North Amrican Beverages arm of the company falling by 1% year-on-year.
The company's soft drink brands, including Pepsi, 7up, Tropicana and Gatorade, still contributed $4.4bn in sales, but this was a $45m decrease against Q1 in 2017.
Pepsico remains "on track" to hit its financial targets for the year despite challenges facing the soft drinks market globally.
"We generated solid overall results in the first quarter," said chief executive Indra Nooyi.
"The majority of our businesses performed very well, including particularly strong performances in our international divisions propelled by accelerated net revenue growth in developing and emerging markets.
"We continued investing in and growing share in a number of faster-growing, future-facing categories. However, competitively we recognize the need to step up investments in core carbonated soft drinks, which we intend to responsibly do.
"We believe our plans will drive further improvement as the year progresses. Importantly, we remain on track to achieve the financial targets we set out at the beginning of the year."
Similarly to other soft drinks brands, Pepsico has recognised changing consumer preferences and has set targets to reduce calories and sugar in its beverages, and salt and fat in its snacks, by 2025. It plans to achieve this through its positive nutrition programme, involving healthier snacks such as Baked Lays and Sun Chips.
Rival soft drinks giant Coca-Cola saw its first quarter results buoyed by increasing sales in healthier drinks, as it announced volume growth of 3% earlier this week.
Yesterday, fellow US soft drink competitor Dr Pepper Snapple recorded a fall in overall income from $177m to $159m on net sales up from $1.5bn to $1.6bn.