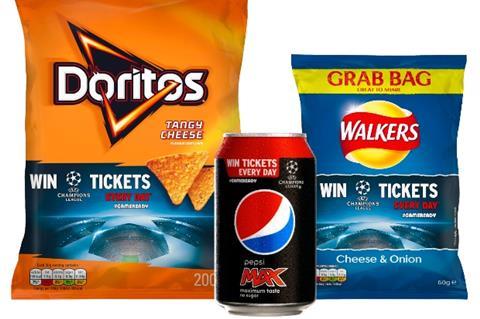 PepsiCo's annual sales rose 3.9% last year, driven by a strong performance in Europe and Latin America.
The soft drinks giant reported sales of $67.16bn for the year ending 28 December 2019, up from $64.66bn the prior year.
Pre-tax profits increased to $9.31bn from $9.18bn.
Pepsi's European unit delivered a strong performance, with organic sales up 6% and operating profits jumping 28% on the previous year, mainly due to revenue growth, productivity savings and the acquisition of SodaStream International.
In Latin America, the business saw sales up 6%, while profits jumped 16%.
Meanwhile, higher advertising and marketing costs contributed to a 21% drop in operating profits at the Quaker Foods North America division.
Both turnover and operating profits at Frito-Lay North America – which includes brands such as Cheetos and Doritos – were up 3%, while the business' beverages unit saw sales up 3% and profits 5%.
"We are pleased with our performance for 2019 as we met or exceeded each of the financial goals we outlined at the beginning of the year," said chairman and CEO Ramon Laguarta.
"Our revenue growth accelerated for the full year as we embarked on our strategy to win with purpose by becoming faster, stronger, and better. We increased brand support to become more locally relevant and consumer-centric, we strengthened our go-to-market execution to enhance our customer relationships, and we embraced a new set of initiatives to help build a more sustainable food system."
Looking ahead, the business expects to deliver 4% organic revenue growth in 2020.
"We will continue to invest in our business and strive to develop advantaged capabilities that will fortify our business for the long term," Laguarta added.