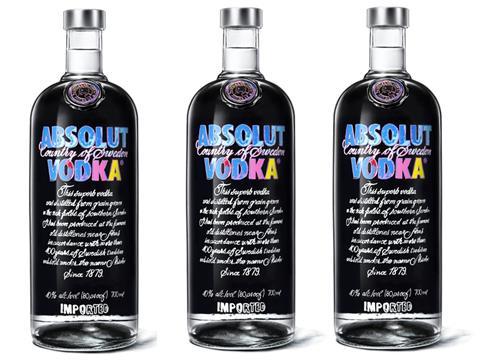 Pernod Ricard undershot industry performance expectations for the 2014/15 financial year after the drinks company decided to book an impairment charge of €404m on its biggest brand, Absolut – which it said was driven by lower growth in the US.
The business's worldwide net sales in the 12 months to June were up 8% to €8.56bn, while profit from recurring operations grew 9% to €2.24bn. Performance varied widely by region, with sales for Asia/rest of world growing 14%, but Europe down 2%.
The group's organic sales growth of 2.3% missed expectations, said analysts Raymond James, who predicted organic growth of 2.8%. But it said that the 5% organic growth seen in the second half of the year, after flat growth in the first, meant that the company's growth would be likely to pick up in 2015/16.
The best performers among the group's brands were The Glenlivet, with sales up 11%, Jameson (up 10%), Campo Viejo (9%), Perrier-Jouet (9%) and Mumm (7%). Absolut, easily Pernod Ricard's biggest brand by volume, lost 1% of its value on flat volumes.
"Our full year results are solid, delivering improving sales and profit from recurring operations in line with guidance," said Pernod Ricard chairman and CEO Alexandre Ricard.
"Our strategy has remained consistent and is delivering results. For FY15/16, despite a challenging and volatile macroeconomic environment, we aim to continue gradually improving our business performance. We will continue to support priority brands and innovations while focusing on operational excellence."
Pernod Ricard shares were 1.8% down by mid-afternoon to €92.07. The shares have now fallen by more than 17% from €110.05 since the first week of August.