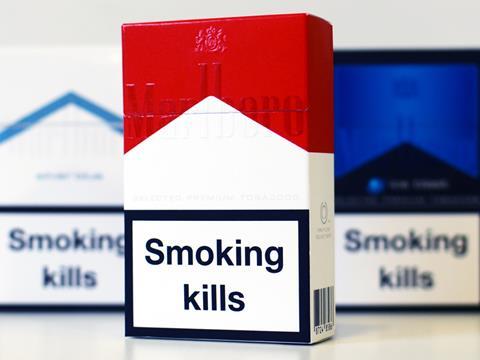 Tobacco company Philip Morris International has reported net revenues, excluding excise taxes, down 12% to $6.9bn (£4.4bn) in the second quarter of this year.
It takes net revenues in the past six months to $13.5bn, down 8.4%. Operating income climbed 9.6% to $2.9bn in the second quarter, but for the six-month period fell 0.8% to $5.9bn
Philip Morris, whose brands include Marlboro, Parliament and Chesterfield, said a lower market share in the UK was one of the factors which had contributed to a 16.9% decline in net revenues to $2bn in the second quarter in the European Union.
Cigarette shipment volumes fell 1.4% in the second quarter to 219.8bn units – down 0.1% to 418.6bn units over the half year.
The company reaffirmed its 2015 full-year reported diluted earnings per share (EPS) forecast of $4.32-£4.42, down from $5.76 last year, excluding, among other things, the impact of any future acquisitions.
The company announced it had dissolved its exclusive joint venture with Swedish Match to commercialise Swedish snus and other smoke-free tobacco products worldwide, outside of Scandinavia and the US.
The two businesses have instead entered into transitional agreements under which the Swedish company will contract-manufacture snus products for Philip Morris in certain markets, including Canada and Russia, while Philip Morris will distribute Swedish Match's brand General in Canada and Russia.