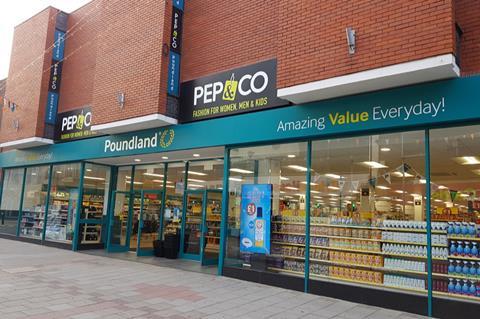 Poundland revenues were flat in its latest full financial year, at £1.5bn, while EBITDA rose from £45.5m to £54.6m, newly filed accounts have revealed.
Like for likes in the year to 30 September 2019 were "stable" but 2.7% up over two years, including the 2018 demise of rival Poundworld.
Gross margin in the latest 12-month period was 37.3%, up from 36.2%, improved by measures to reduce stock shrinkage. Operating profit was £26.7m, up from £22.5m.
Growth had been driven by Pep&Co clothing 'shops in shops', but the positive impact of Poundworld's demise had been offset by competitors opening in the chain's former sites, according to the accounts.
The period saw the launch of new rival One Below, which sells everything for £1 or less. It opened around 50 stores in 2019, many in former Poundworlds.
Poundland's results also pointed to a "challenging retail environment" and falling high street footfall as helping to offset the trading transfer from Poundworld.
The period saw Poundland trial a greater range of grocery, household, health & beauty – hailed as a success in the accounts – and since rolled out across the estate. The trial of frozen and fresh 'shops in shops' in some stores had also been a "great success".
A trial of a broader range of price points would be extended from grocery categories to general merchandise over the next 12 months.
The arrival of Covid-19 this year had seen 15% of Poundland's estate close during lockdown "where reduced customer traffic made them unprofitable in the short term", the accounts said. Since May, the stores had been gradually reopening and revenue had "encouragingly trended back towards pre-lockdown levels" but lockdown had significantly impacted revenues.
As well as uncertainty over the development of the virus, challenges ahead included Brexit. "Britain's decision to leave the EU could lead to a more challenging environment in the short and longer term due to ongoing uncertainties about how the exit will be engineered," the accounts said. Possible consequences included an impact on the company's workforce and movement of goods.
Poundland continued to improve its estate, favouring "quality over quantity" as it competed with a "diverse range" of rivals including "value general merchandise retailers, supermarkets, apparel retailers and other high street retailers".
Thirty loss-making or underperforming stores had been closed during the period and 28 new stores opened, leaving a UK and ROI estate of 838.