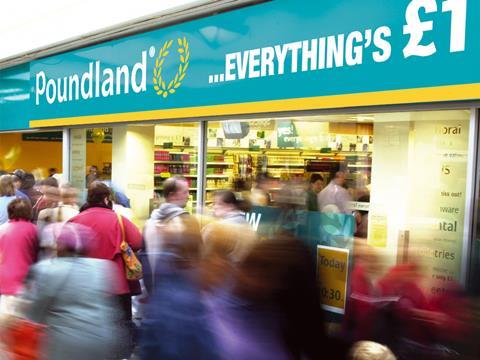 Poundland (PLND) shares have plunged to an all-time low of 170.4p after falling 11.3% as it warned profits for the year would be at the low end of expectations.
The drop came despite Poundland announcing a 30.1% sales increase (on a constant currency basis, excluding Spain) in this morning's Q3 trading statement for the 13 weeks ending 27 December 2015.
Poundland's sales grew by 9 percentage points, including 3 percentage points from converted 99p Stores, whilst the acquired 99p Stores (trading under their own fascia) contributed 21.1 percentage points.
On an actual currency basis, total revenue, excluding Spain, was £424.9m, which represented total growth of 29.4%.
Poundland added that the 99p Stores' conversion programme has commenced "well and at pace" with 25 stores converted and it opened a further net 14 stores in the UK and in Ireland during Q3.
The chain said the trading conditions highlighted at the interim results continued in Q3 as high street footfall declined and it warned that pre-tax profit for the year would come in towards the lower end of the range of market expectations of between £39.8m and £45.8m.
"Total sales in the third quarter increased by 30.1% on a constant currency basis and our Christmas and Halloween ranges were our best ever," said CEO Jim McCarthy. "However, the trading conditions that we experienced in November continued through the third quarter, with high street customer numbers down year on year and this has impacted sales growth.
"I am very encouraged by the sales uplifts of converted 99p Stores and by the speed and efficiency of the conversion process," he added. "I expect the store conversion programme to be substantially complete by the end of April and still expect to generate incremental EBITDA of at least £25m from the transaction. In addition, we remain on track to open around 70 net new Poundland and Dealz stores in the UK and Ireland in the full year."
McCarthy also said Poundland would launch its first trial multi-price format store in April.
Haitong research branded the underlying 9% total revenue growth at Poundland as "underwhelming" and a "disappointing outcome". It maintained its "sell" position. However, it did highlight the "brighter note" of the positive progress of the 99p Store estate conversion.
Canaccord Genuity adopted a "positive view" based on the "EBITDA synergy benefits of at least £25m that will accrue from the integration of the 99p Stores chain" and the "further potential benefits" from international expansion, the multi-price trial and "eliminating euro transactional risk exposure by FY18 through increased euro-denominated sourcing". It maintained its "buy" position.
Poundland will publish its Q4 trading update for the year ended 27 March 2016 on 14 April.