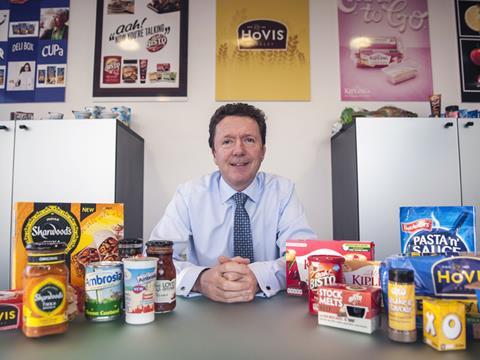 Branded sales at Premier Foods (PFD) have slipped back into decline as an unseasonably warm December turned shoppers away from its range of Batchelors soups and Sharwood's sauces.
CEO Gavin Darby said the 1% fall to £208m in the 13 weeks to 2 January was "solid" against a backdrop of continuing food price deflation and negative top-line growth plaguing the sector.
A strong performance in the cakes and sweet treats division, with new Cadbury and Mr Kipling products driving growth of 6.5% to £78.2m, took the sting out of a 2.7% fall in grocery sales, down to £166.8m.
Total group revenues nudged up 0.1% to £245m in the quarter as the small non-branded side improved 6.4%, but the decline in the branded business, after a surprise 1.6% rise in the previous three months, led to a sell-off of Premier shares today, with the stock down 7% to 35.5p. The dip in branded sales pushed year-to-date figures to 0.4% down, compared with a 0.1% increase for the first half.
"I absolutely loath talking about the weather, but it was one of the warmest December's on record and Premier is, in grocery, a winter business," Darby said.
The soup and dried snacks sub-category which Batchelors trades in shrank by about 10% in December, he added, and sales of Sharwood's, Loyd Grossman and Homepride were also marginally down. Jefferies analyst Martin Deboo estimated the warmer December cost Premier about 3-4% of grocery sales in the month.
Despite the difficulties for grocery, Bisto and Oxo still managed growth in the period following significant investment in NPD and marketing spend. Darby said the same recipe of innovation backed by TV advertising and other marketing activity had also fuelled the gains for Mr Kipling and Cadbury in the cakes business.
"This industry is not going to realise higher revenue by raising prices," he added. "It is going to grow, for manufacturers and retailers, by innovating and bringing new products. If you can genuinely justify a higher pence per cooking occasion or per snack based on innovation you will get extra revenue. That is the way we are driving and where we're focused."
Premier is widening the strategy to other brands in the fourth quarter to include Ambrosia, which is set to launch a frozen ice cream line and a deluxe range, and sticky sauce pouches for Homepride. A range of Paul Hollywood sweet and savoury baking mixes will also hit the shelves in February.
Within sweet treats, Premier saw non-branded sales jump 7.5% to £25m as it won a number of mince pie contract gains across the supermarkets and discounters. In 2015, the business sold 185 million mince pies, an 8% increase on the previous year.
Darby reiterated full-year branded sales expectations of 1%-2% growth on the back of the strong performance in cakes and the "strong programme of innovation" across the business.
Analysts at Shore Capital, Jefferies and Investec reacted positively to the trading statement, supporting the case that the December weather had blown the business off course.
Clive Black at ShoreCap said: "For Premier Foods, given its track record under previous regimes of long-term disappointment and volatility, 'solid' and in-line are sound and still good and we see the mark down in the stock as an opportunity to buy for investors.
"Premier is through its darkest hours, with the 2014 refinancing creating a basis for management to start focusing more demonstrably upon operations rather than firefighting balance sheet matters."
Deboo added: "We can think of a few occasions in the past when weather anomalies or changes in promotional intensity would have initiated a full court of inquiry amongst Premier and its followers, with much attendant waving of hankies and furrowing of brows. That such things are now being taken in its stride should be taken positively we think. Onward to Q4."