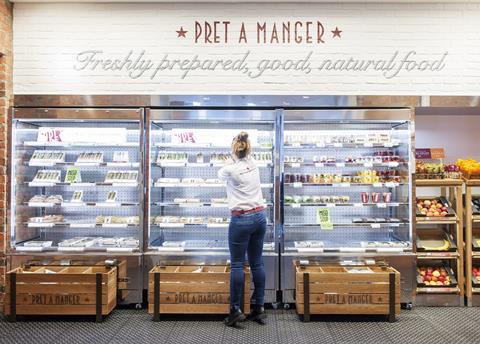 Pret a Manger set aside almost £10m to cover legal costs after it became embroiled in a major food allergy scandal, newly filed accounts have revealed.

Pret made a provision of £9.6m for legal costs in the year to January 2019, relating to ongoing legal proceedings, including cases brought forwards by customers based on "operational incidents" and employee litigation.

In October 2018, the high street coffee retailer faced an inquest into the death of Natasha Ednan-Laperouse, who collapsed after suffering an allergic reaction from eating one of the chain's baguettes in July 2016.

This was followed by a separate December 2017 incident leading to the death of Celia Marsh, which Pret said related to contamination in a dairy-free yoghurt produced by CoYo, found to contain dairy protein and used in one of its flatbreads.

The cases led to "significant public scrutiny" and resulted in Pret launching an Allergy Plan last May, which included implementing full ingredient labelling across all UK shops by the end of 2019.

The cost of the plan will "certainly be felt" in Pret's 2019 results, a company spokesman said, as the relabelling represented the "biggest change in Pret's operations ever".

Meanwhile, staff bonuses, rising business rates and Brexit uncertainty ate into the chain's wider UK profitability.

While revenues rose 11% to £710m in 2018, operating profits slumped 66% to £19.6m as Pret paid out £17.5m in bonuses, comprising £1k for each team member, following its £1.5bn acquisition by JAB Holdings in May 2018, while it also incurred an accounting charge of £22m.
Sales rose on the back of 29 new openings, with Pret owning 389 stores at the end of last year.
However, given the size of the sandwich chain's estate, the business rates increase experienced in 2018 had been "especially impactful".
Furthermore, Pret said British consumers "continue to be faced with inflationary pressures and political uncertainty aggravated by the potential of a no-deal Brexit".
"Nevertheless, the UK business had a good performance despite the challenging market," it added.
In May 2019, Pret also acquired rival chain Eat, with plans to "convert as many Eat shops as possible to Veggie Prets in order to serve a growing demand of vegetarian and vegan customers."