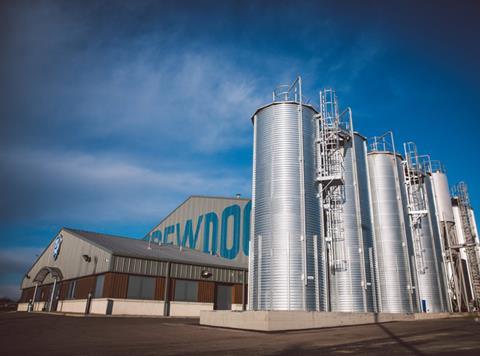 Self-styled "punk" brewer BrewDog has reported a 51% rise in revenues in 2015, but profits edged down after overheads almost doubled during the year.
The fastest growing company in The Grocer's Fast 50 saw another year of stellar growth, with revenues rising from £29.6m to £44.7m during the year to 31 December 2015.
BrewDog said that this growth figure would have been higher "if we had the capacity to meet the demand for our beers". The 51% growth figure was down on its average annual growth rate of 69% over the past five years.
The brewer said it had concentrated on putting in place the capacity, workforce and infrastructure to underpin the next five years of growth, including a £20m investment in its Ellon brewery in North East Scotland.
"We are now in a position where we have 1.5 million HL of Brewhouse capacity," its annual report stated. "To put this in perspective our 2015 output was 134,000 HL, so we now have capacity to burn."
This investment meant that overheads grew at a faster rate than revenues. Overheads were up 81% to £14.1m as it added weight to its executive team, built a new 4000sq.m warehouse and opened 16 new bars to take it to 45 globally.
Earnings before interest, taxes, depreciation and amortisation were 0.3% down to £4.9m.
BrewDog's tax bill for the year dropped from £1m to £749k, meaning profit for the year was up 2.9% to £2.7m. Pre-tax profit fell 4.8% to £3.5m
The annual reported stated: "We are very pleased that despite our strong growth and massive investment in future growth in 2015 we still generated a very healthy trading profit which was comparable to our 2014 trading profit number.
"The plan is to continue to invest all profit into fuelling further growth as we continue to invest in our beer and our people. We have been a high growth company since we started, but that high growth has always been underpinned and driven by solid profitability."
BrewDog said the increased capacity at Ellon should have a "significant and positive impact" on its 2016 gross margin as brewing efficiency increases.
Some £33.4m (75%) of BrewDog's income was generated in the UK, compared to £19.9m (67%) last year. BrewDog said its UK beer sales were up 131% during the year.
Europe revenues accounted for £8.8m (20%), the US and Canada 765k (2%) and the Rest of the World £1.9m (4%).
BrewDog said it had invested in growing capacity internationally during the year, with an annual capacity of 400,000 HL coming online in Columbus Ohio in August 2016 after a $25m investment.
"The US is the world's biggest and fastest growing craft beer market. We have a huge reputation there and the new brewery will enable us to meet the US demand," the annual report states. "We already have contracts in place with distributors in 15 states who are ready and waiting for our first beers to roll off the bottling line in Columbus."
Overall wages and salaries rose 59% to £9.1m as its average head count for the year rose from 277 to 403 staff (including 252 bar staff). In its annual report BrewDog said it now employs 580 people.
Directors' remuneration rose from £451k to £649k.
BrewDog now boasts a community of just over 40,000 "equity punk investors" after four rounds of crowdfunding since 2009.
Its fourth round, which closed earlier this year, meant it has now raised over £14m, "making it the most successful ever equity crowd funds raised in the world", according to BrewDog.