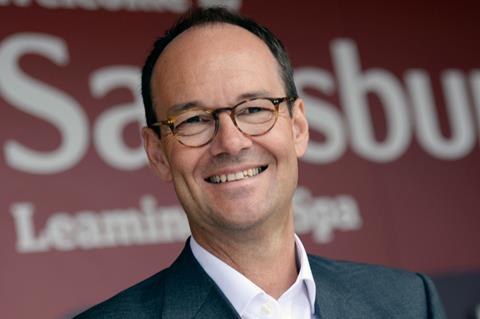 Sainsbury's expects a pick-up in sales momentum to gather pace during the second half of the financial year, with CEO Mike Coupe confident about the crucial Christmas period. However, the supermarket boss has expressed worry over a potential consumer hangover in the new year following the December general election and ongoing Brexit uncertainty.

Group revenues, which include food, clothing and general merchandise at Argos, fell 0.2% to £16.9bn in the 28 weeks to 21 September 2019, with retail sales down 0.6% and like-for-like figures 1% lower.

However, performance improved in the second quarter of the period as Sainsbury's lowered prices on 1,000 high-volume lines and introduced new value brands to replace its Basics own-label range. Like-for-like sales were down just 0.2% in the second three months of the half, compared with -1.6% in the first quarter. And total retail sales achieved 0.1% growth, thanks to a 0.6% rise on the grocery side and a 3.3% jump in clothing.

CEO Mike Coupe said this morning that the momentum had continued in the third quarter, with cash share and volume share strong relative to its rival mainstream grocers.
"Overall, we expect a reasonably good second half and to see some profit progression versus the second half of last year," he added.

He said that prime minister Boris Johnson's decision to call an election on 12 December would be unlikely to impact shoppers in the run-up to Christmas.

"Election day is usually a fairly dull day for retail sales, but underlying sentiment will still be there.

"All our experience will say that people will still celebrate Christmas, they always do. We would expect that we will do well over Christmas, but, depending on the outcome of the election and how quickly we get the whole Brexit situation resolved, there may well be a hangover in the new calendar year. However, we are confident that consumers will spend over Christmas."

Coupe said sales of mince pies were already up 30% year on year thanks to innovation in new product lines such as Rum, Pineapple & Coconut Mince Pies and Salted Caramel & Apple Mince Pies.

Sainsbury's first-half underlying profits slipped by £41m - or 15 % - as expected to £238m, which the retailer blamed on higher marketing costs, comparisons to last year when demand was high because of good weather and the impact of its cost savings programme.

A £203m, largely non-cash, one-off cost following a review of the store estate dragged down overall profitability in the period. Pre-tax profits fell from £107m a year ago to £9m and the group sank into the red overall, with a £38m loss in the period, compared with a profit of £123m last year.

Sainsbury's added that Argos - where it converted 176 of the stores to the digital format in the half - grew ahead of the market, despite general merchandise sales falling by 2.5%.

The first-half results come as Sainsbury's tries to rebuild confidence in its strategy following a failed takeover bid for Asda earlier this year after the competition watchdog blocked the £7.3bn merger.

Shares in the supermarket have lost more than 30% of their value over the past year as investors worry about the group's direction.

Coupe presented his strategy for the business in September at a capital markets day, where he emphasised cost cutting and paying down debt, with store closures as Sainsbury's integrates more Argos branches in store.

The share price opened almost 2% higher this morning, but most of the gains had fallen away by lunchtime.

Coupe said he expected the stock to rebound once Brexit uncertainty had been dealt with.

"There is clearly an overhang, not just within retail, but anything that is consumer-facing given the Brexit backdrop," he added.

"The sooner we can resolve our future as far as that is concerned the better and that is what ultimately will fuel consumer confidence and will lead to a rerating of retail [shares] in the UK."