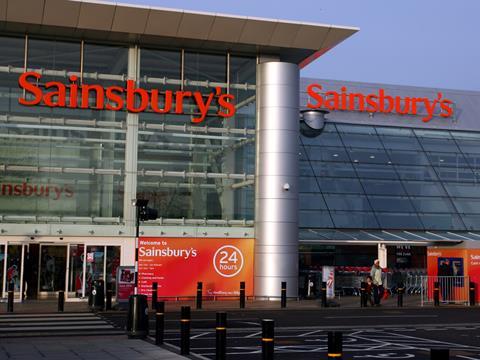 Sainsbury's (SBRY) has reported a rise in annual sales and underlying profits last year, but the group warned a "significant" drop in banking profits will hit earnings in its 2018/19 financial year.
In light of this morning's seismic announcement of the proposed combination of Sainsbury's and Asda, Sainsbury's announced results for the year to 10 March, which had previously been scheduled for Wednesday.
Pre-tax profit fell from £503m to £409m on group revenues, excluding VAT and including fuel, up from £26.2bn to £28.5bn.
Total group sales including VAT and fuel climbed 9% from £29.1bn to £31.7bn.
Group like-for-like sales including VAT and excluding fuel climbed 1.3% during the year. Underlying profit before tax climbed 1.4% from £581m to £589m.
Sainsbury's reduced net debt by £113m to £1.4bn and it was aiming to reduce net debt by a further £100m in 2018/19.
It delivered £185m cost savings in the year, bringing the total to £540m over three years, exceeding its original £500m three-year target.
The business said it would deliver further cost savings of at least £500m over the next three years to 2020/21, starting with £200m in savings this year.
Highlights included convenience sales up nearly 8% and groceries online sales up nearly 7%.
Some 191 Argos stores opened in Sainsbury's supermarkets, resulting in about 280 by the end of 2018/19, ahead of the plan to open 250 by March 2019. It would also deliver £160m EBITDA synergies by March 2019, six months ahead of plan.
The company said it had begun looking for a non-executive chairman to succeed David Tyler, who has been chairman for more than eight years.
Mike Coupe, group chief executive, said: "We have accelerated the rate of change and innovation across the group and more customers are choosing to shop with us than ever before as a result. I am pleased to announce an increase in underlying profits before tax to £589m, driven by delivery of Argos synergies, efficiency savings across the group and improving food margin trends.
"We are focused on making Sainsbury's a destination of choice. We are clearly differentiated by the quality of our food and we have recently invested a further £150m to lower prices. General Merchandise and Clothing were both performing ahead of the market and, in response to great customer feedback and financial returns, the group was opening Argos stores in its supermarkets faster than it originally planned. We will also deliver £160 million EBITDA synergies by March 2019, six months ahead of plan.
"Sainsbury's Bank profits grew as we fully consolidated Argos Financial Services during the year. Looking to the year ahead, we expect lending margins to remain under pressure in a competitive market. Combined with new accounting standards and interest payments on the external capital we raised in November, we expect bank profits to reduce significantly next year. We have decided to limit capital injections in the bank to £110m in 2018/19. We will take a cautious approach to unsecured lending while maintaining focus on mortgage growth.
"Our acquisition of Nectar supports our strategy of knowing our customers better than anyone else and I was pleased to welcome our Nectar colleagues to the group in February."
Sainsbury's continued to find ways to simplify its business and reduce costs, Coupe added.
Sainsbury's shares are up 17.2% to a near four-year high of 316.1p on news of its £7.3bn merger with Asda to create a group with £51bn in annual sales.